Missing Paris as much as we are? The architecture. The fashion. The food. Mais oui!
David Charette and Jay Britto in Paris for Maison&Objet 2018
With travel on hold, we've found ourselves looking through hundreds of photos of our trips to Paris—trying to recapture just a bit of the je ne sais quoi that makes the City of Lights so damn enchanting.
Façade of modern home; Cudmore Builders; interiors by BRITTO CHARETTE
One of our designers' favorite bars is LE BAR KLÉBER (pictured above), located within the Peninsula Hotel. When travel resumes, please save us a spot!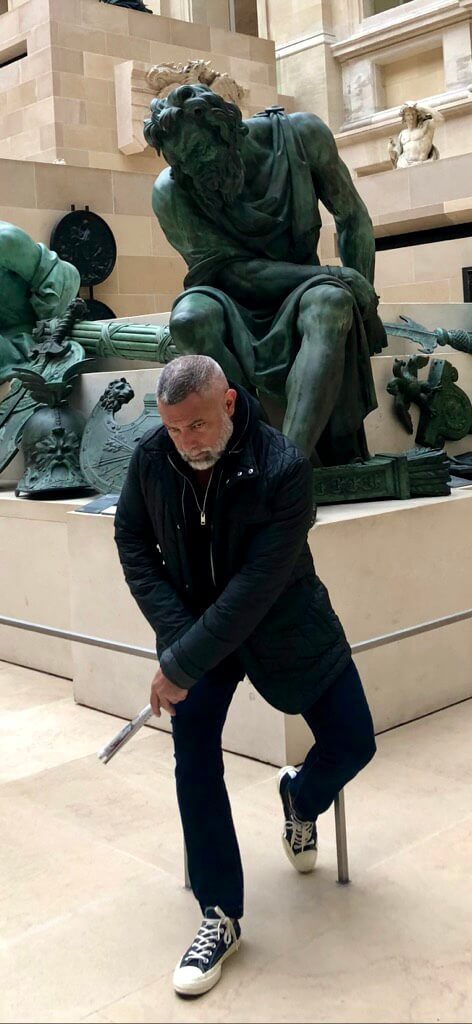 David Charette posing in Paris
Jay Britto and David Charette visit Paris every year and their trips are centered around Maison&Objet. In 2018, the design duo had the pleasure of presenting at the M&O Talks.
David Charette and Jay Britto present at Maison&Objet Talks in 2018
WHAT IS MAISON&OBJET?
Maison&Objet is a twice-yearly interior design trade show that takes place in Paris. The show brings together designers and brands in the home décor industry and allows the two to connect, launch collections, and view the industry's latest trends. This year, due to the pandemic, the trade show is introducing its products to us virtually through "Digital Days" from January 27 through March 17. 
On Wednesdays: The products behind the new trends. Analysis of a trend and its influence on consumer behaviors by a French or international trend specialist. An exclusive themed selection of new products, to spot what will be tomorrow's must-haves and a look at new lifestyle brands. 
On Thursdays: One trend, One place: e-visits from around the world. A behind-the-scenes deep dive into discovering new and inspiring places throughout the world: concept stores, distributors, original boutiques. Don't miss a selection of locations that have been able to seize emerging trends and showcase products in an innovative way. 
On Fridays: Inspiring Digital talks Conversations on topics related to social evolutions and new consumer expectations. Getting to the bottom of a trend, identifying new talents: these are the Maison&Objet conferences as you know them, a panel of experts to better understand the market.
Every year they share their favorite M&O finds with you, and this year is no different. Some of their favorite new products so far?
Our design team is really excited with the lineup of new products that are a great fit with our modern interior designs. Stay tuned for more of our Britto Charette designers' top picks from Maison&Objet. 
LEARN MORE ABOUT MAISON&OBJET
Press contact S2H Communication – T: +33 (0)1 70 22 58 55 maisonobjet@s2hcommunication.com Sarah Hamon – sarah@s2hcommunication.com
Located in Wynwood, Miami?
We invite you to contact us at our office:
Or you can subscribe to our Newsletter and get design inspiration, global trends, cutting-edge luxuries, and fresh ideas.