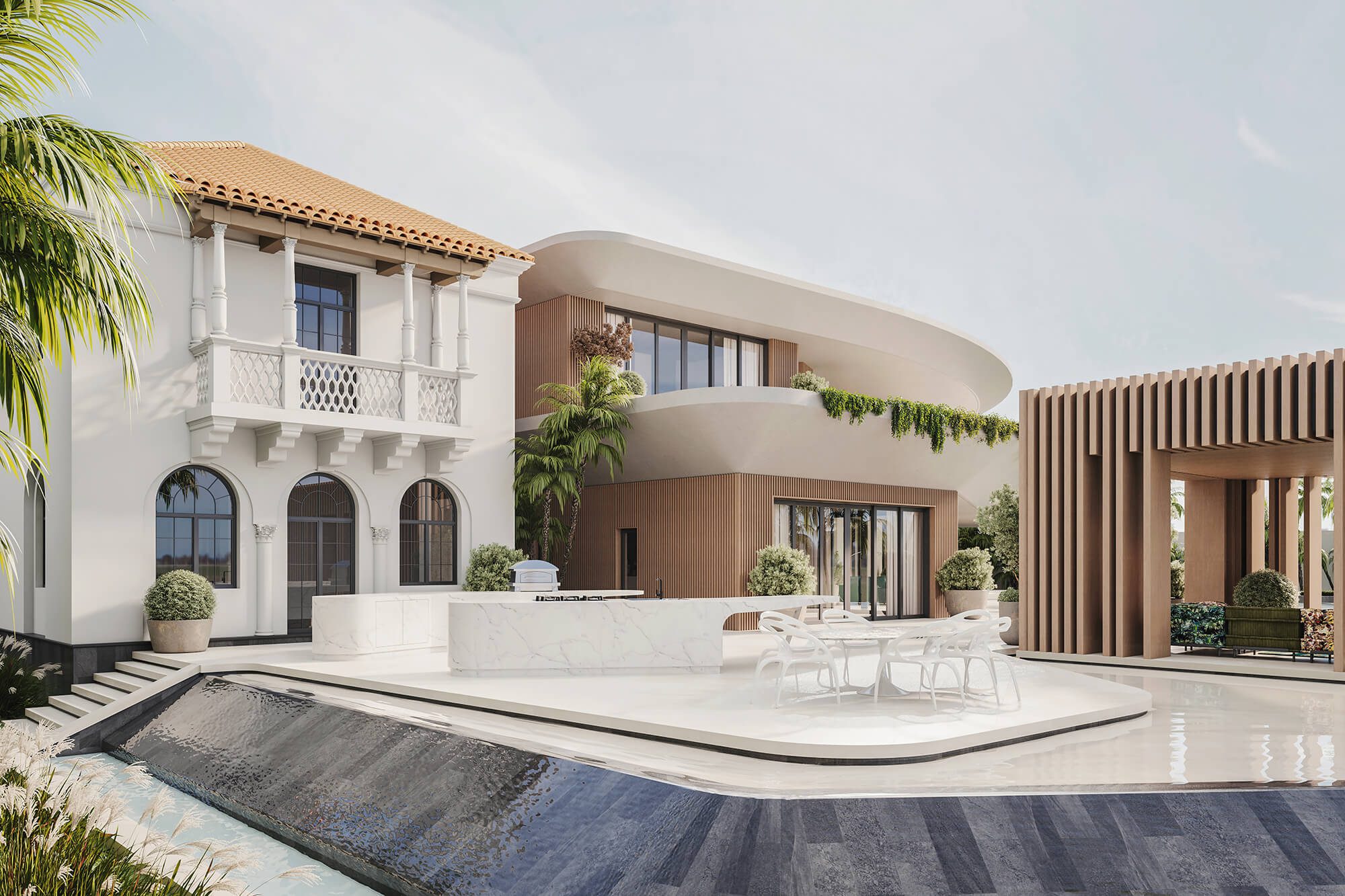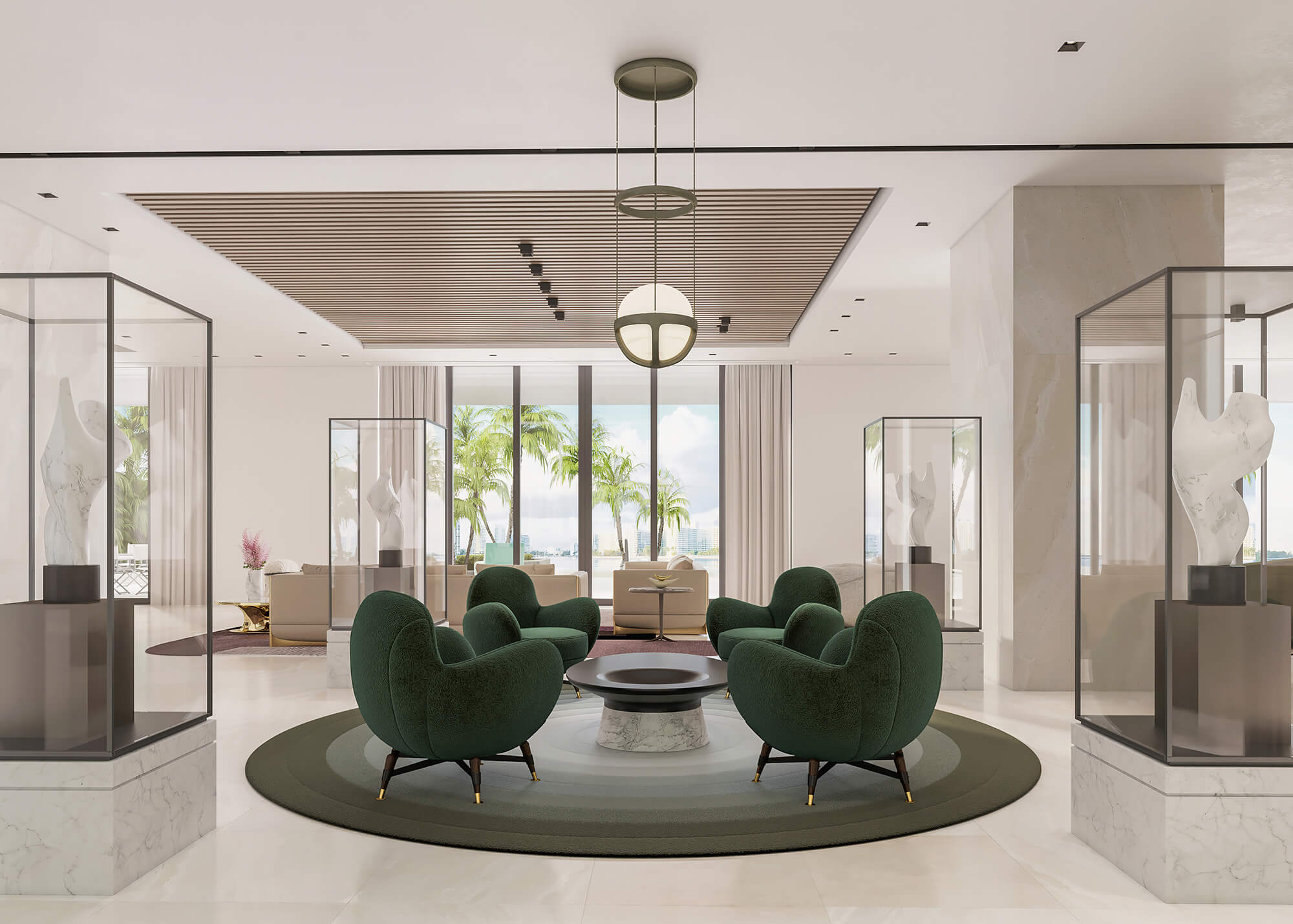 The kitchen is designed to be distinctly separate from the rest of the residence—in keeping with a formal, defined, grand salon. Separation also helps with acoustics and catering. The kitchen is equipped with a second dining room—a specific request from our client because he loved the banquette area that we crated for his Acadia residence. This banquette seats 10 and includes Saarinen Tulip tables and chairs. Upholstered panels behind the banquette also help with acoustics which is important during entertaining and performances. Prep space for cooking and catering abounds. A TV rises out of the island, pivots 360 degrees, and then recesses when not in use. A moving ladder makes reaching the 10' high upper cabinetry easy.
Our design includes marble, stainless steel, acrylic, polished brass, Italian cabinetry, and state-of-the-art appliances. But our favorite feature? The ceilings. At 22', they were a thrill to work with. We were inspired by an artist at the Guggenheim so we envisioned a stepped ceiling with LED lights whose colors can be changed with a flip of a switch.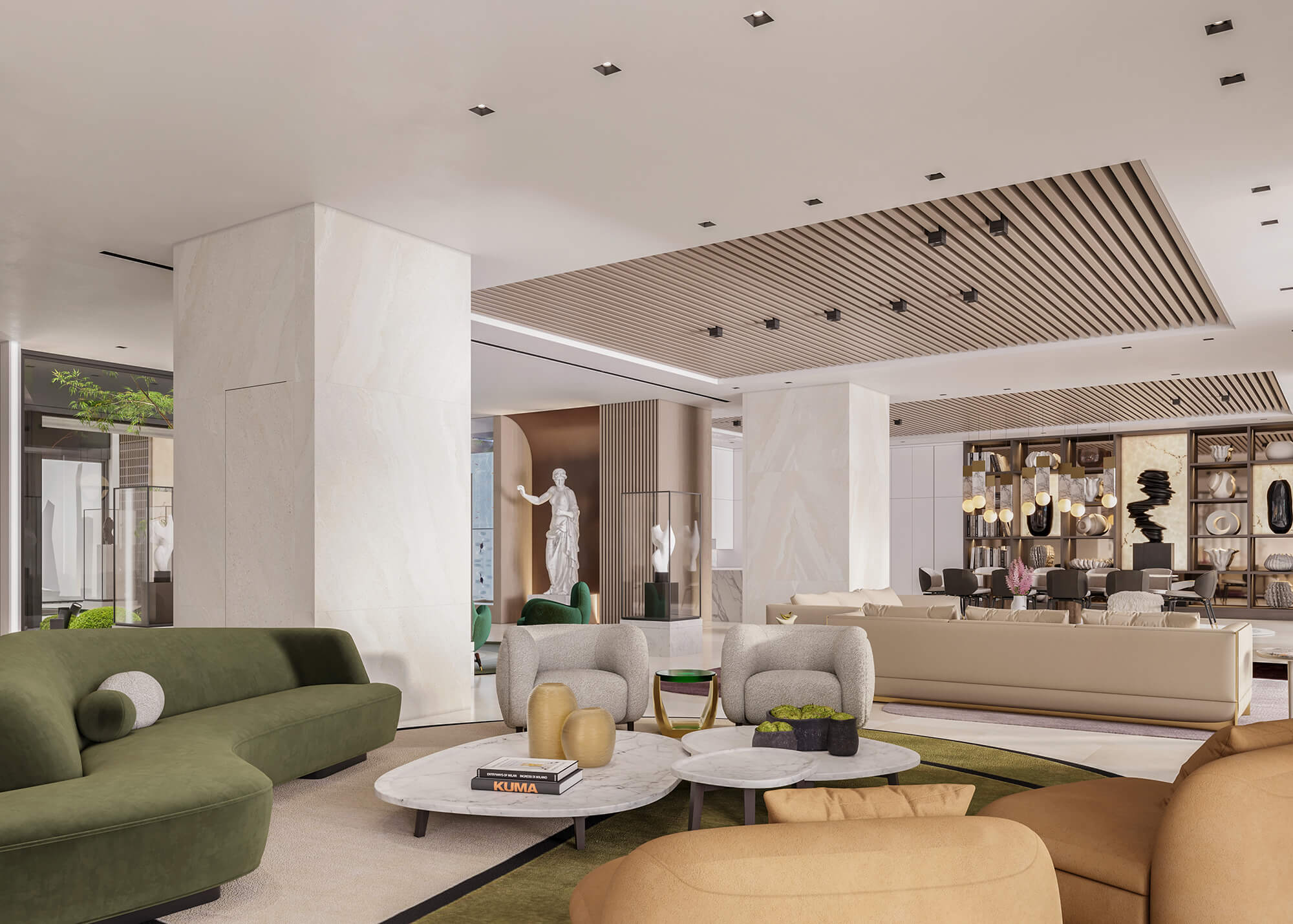 –Winner of the LIV Hospitality and Design Award Honorable Mention
STAR ISLAND is a 9500 sqft waterfront home located in Miami Beach, Florida. Our
team is designing the interiors of this new-construction home, paying special attention to
the needs of our clients who are art enthusiasts and wish to showcase their collection.
We have helped them edit their collection–reinterpreting it to maximize impact and help
it work in harmony with the interiors. This concept-driven design will feature a custom
wall divider by Fornasetti that will provide an art-focused transition from "day to night."
We have also concentrated on the importance of lighting the space, including moving
walls and incorporating the latest lighting technology.
Our team also recognized the need to create a monumental staircase in the double-height foyer–opening up the existing closed staircase to bring in additional light and a
sense of grandeur. The structure is being reinforced to accommodate the changes.
The scope of our project also includes all furnishings, lighting, fixtures, accessories, and
outdoor entertaining areas. We have created a design solution that honors our clients'
incredible art collection, that brings in more light, and that complements the stunning
waterfront location.
Photographer: Alexia Fodere