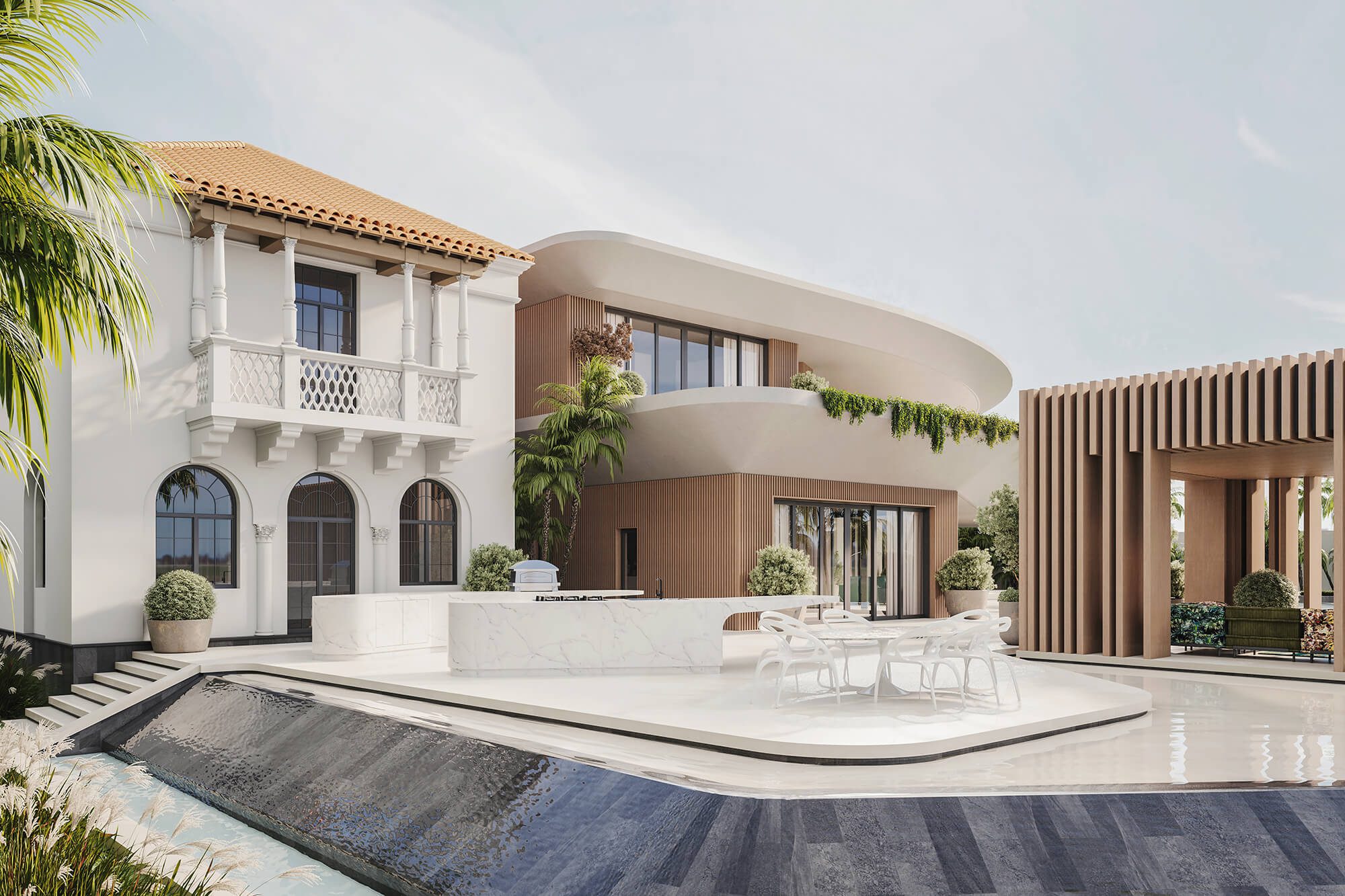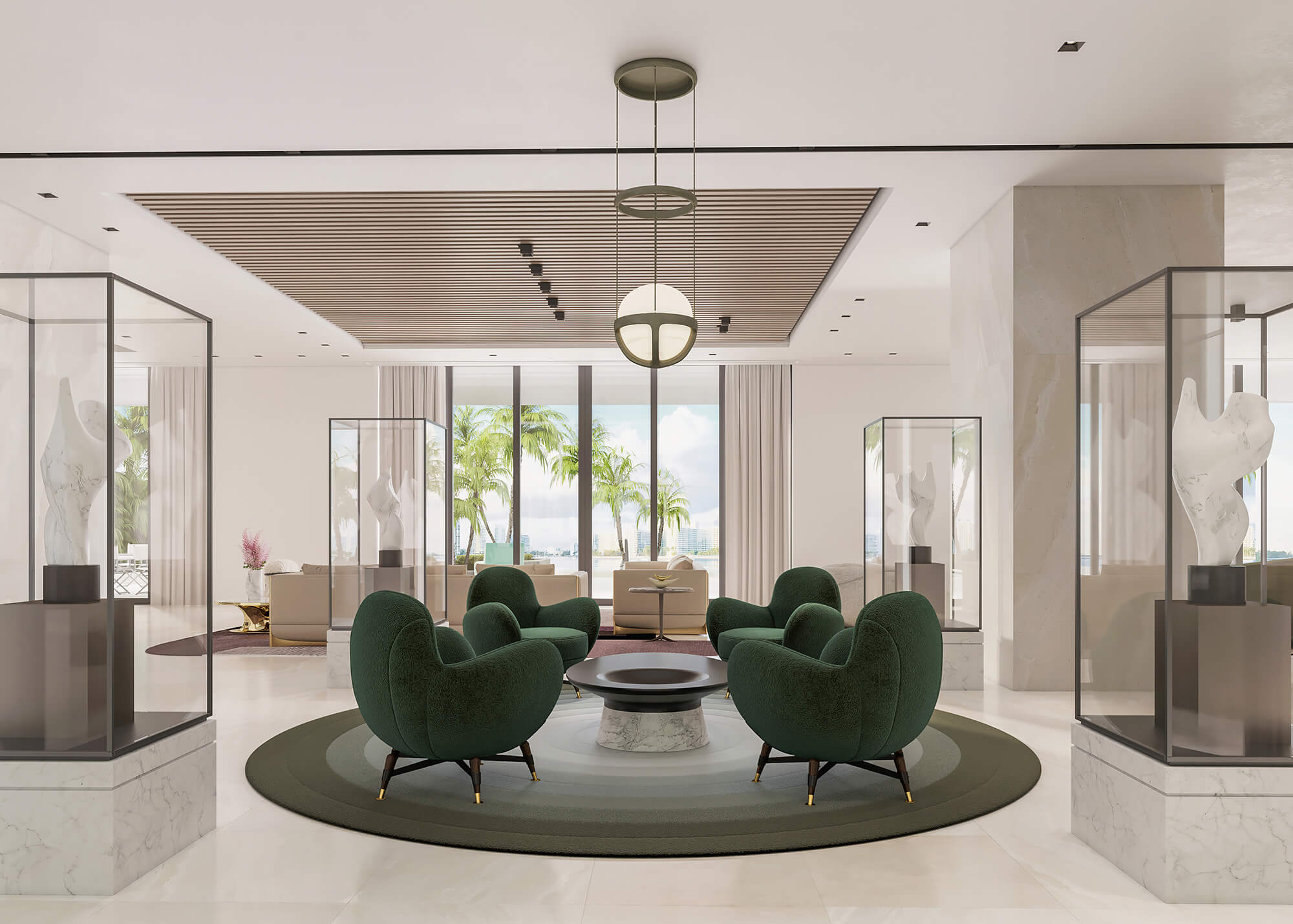 The kitchen is designed to be distinctly separate from the rest of the residence—in keeping with a formal, defined, grand salon. Separation also helps with acoustics and catering. The kitchen is equipped with a second dining room—a specific request from our client because he loved the banquette area that we crated for his Acadia residence. This banquette seats 10 and includes Saarinen Tulip tables and chairs. Upholstered panels behind the banquette also help with acoustics which is important during entertaining and performances. Prep space for cooking and catering abounds. A TV rises out of the island, pivots 360 degrees, and then recesses when not in use. A moving ladder makes reaching the 10' high upper cabinetry easy.
Our design includes marble, stainless steel, acrylic, polished brass, Italian cabinetry, and state-of-the-art appliances. But our favorite feature? The ceilings. At 22', they were a thrill to work with. We were inspired by an artist at the Guggenheim so we envisioned a stepped ceiling with LED lights whose colors can be changed with a flip of a switch.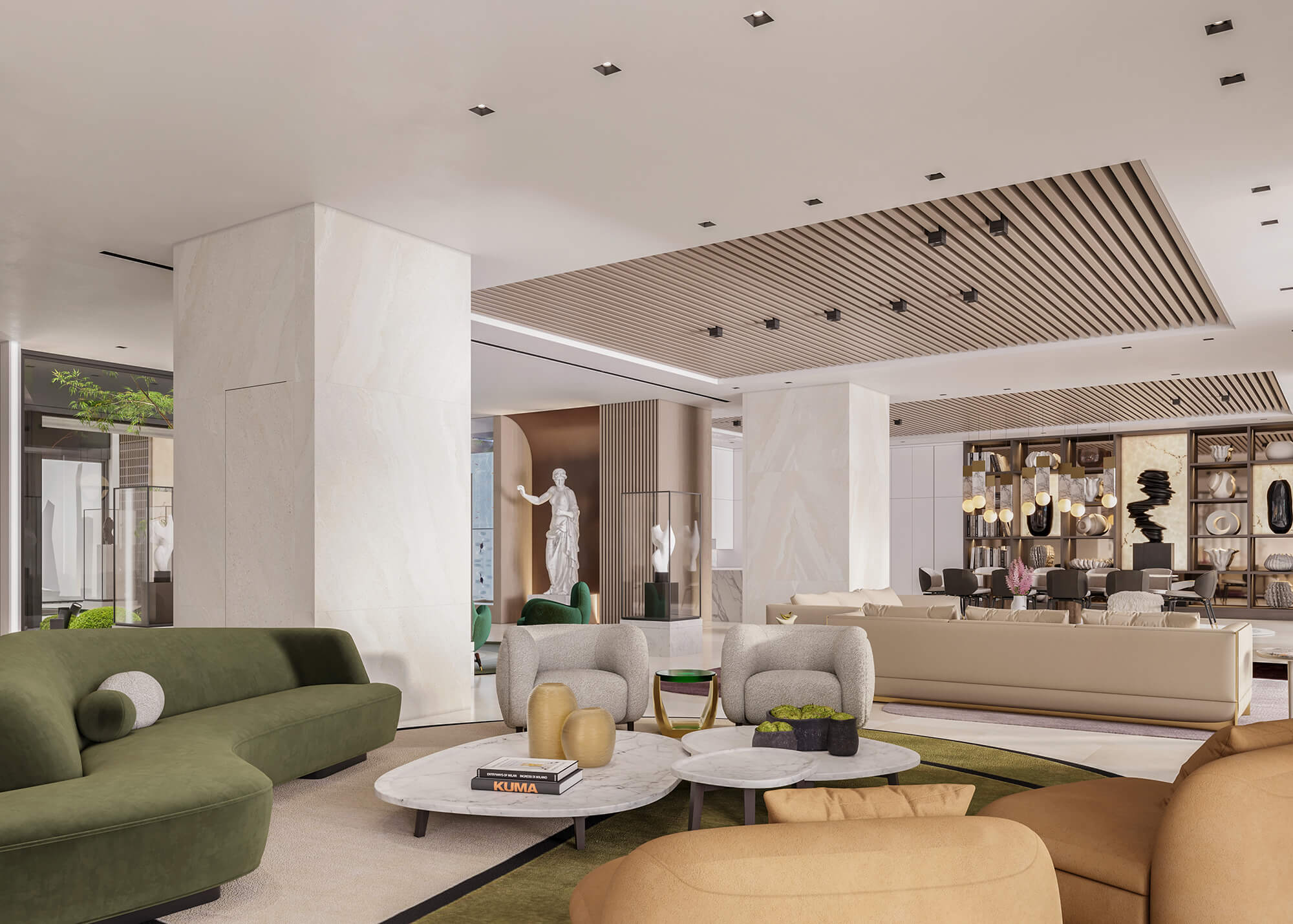 STAR ISLAND is a penthouse located in a renovated historic building in Montreal's Golden Square Mile. The developer renovated the building by respecting its history and the spirit of the architecture while our team has created a design for the interiors that matches the elegant proportions of the rooms.
TASK: After our client purchased the PH, he asked us to create a space that would allow for him to entertain but to also keep the family living areas private. We loved the challenge and realized that the soaring ceilings provided us with a fabulous opportunity to create a grand salon that is reminiscent of Europe's famous residences. Our design married modern design principles with traditional architectural elements. We hope you find the grand proportions, scale, and volume as exciting and forward-thinking as we do.
The residence is comprised of three floors, including a grand salon with dining room, living room, and kitchen on the ground floor; a mezzanine with an audio-visual room, utility room, and children's suites; and the PH on the 3rd floor. An attic space was demolished, allowing for ceilings at a staggering height of 22 feet. Our design includes flooring comprised of herringbone-patterned sandblasted oak and floor-to-ceiling draperies with a recessed pocket that runs the entire perimeter of the ground floor.
Photographer: Alexia Fodere