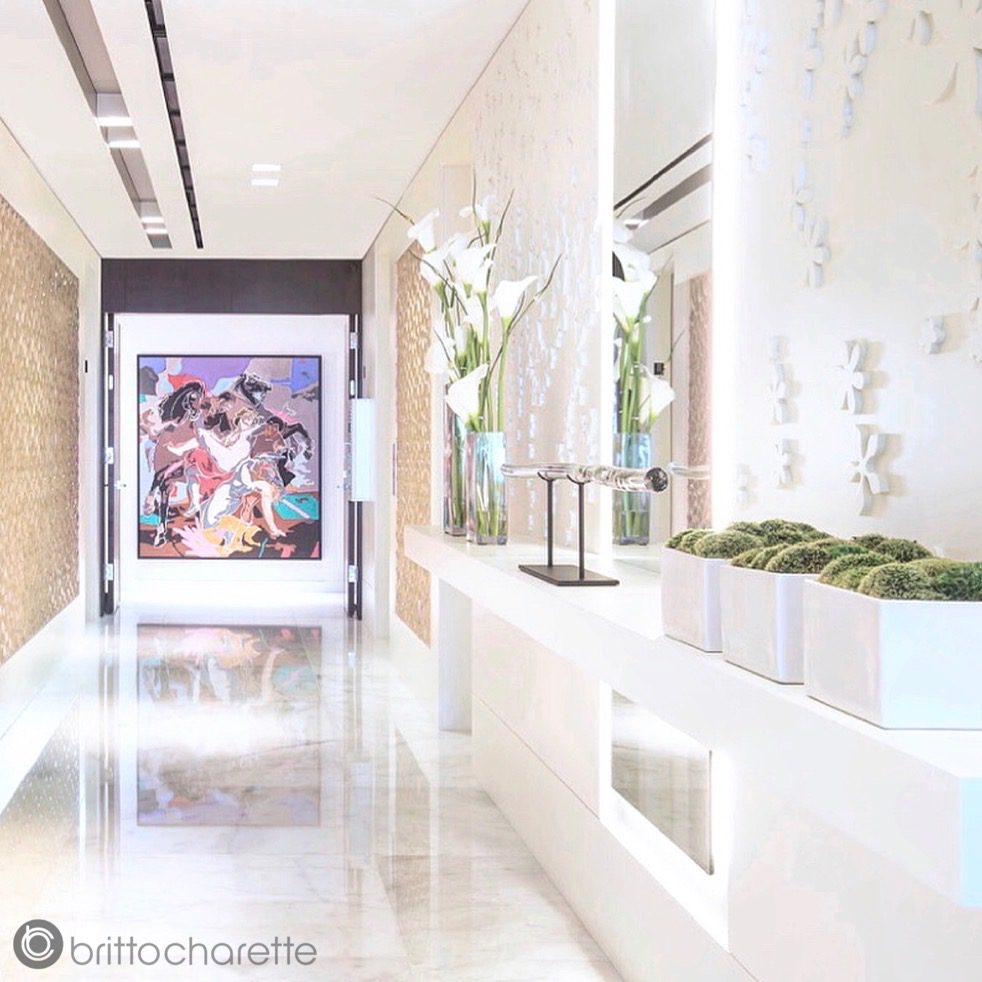 Don't let your foyer be a lost design opportunity. Principals David Charette and Jay Britto explain how to create an entrance that welcomes guests and makes a great first impression.
REGALIA ELEVATOR FOYER by BRITTO CHARETTE. Photo by Alexia Fodere
Our team at Britto Charette tackles foyers of all shapes and sizes, but three particular types are the firm's focus: elevator foyers, vacation homes, and detached single-family homes.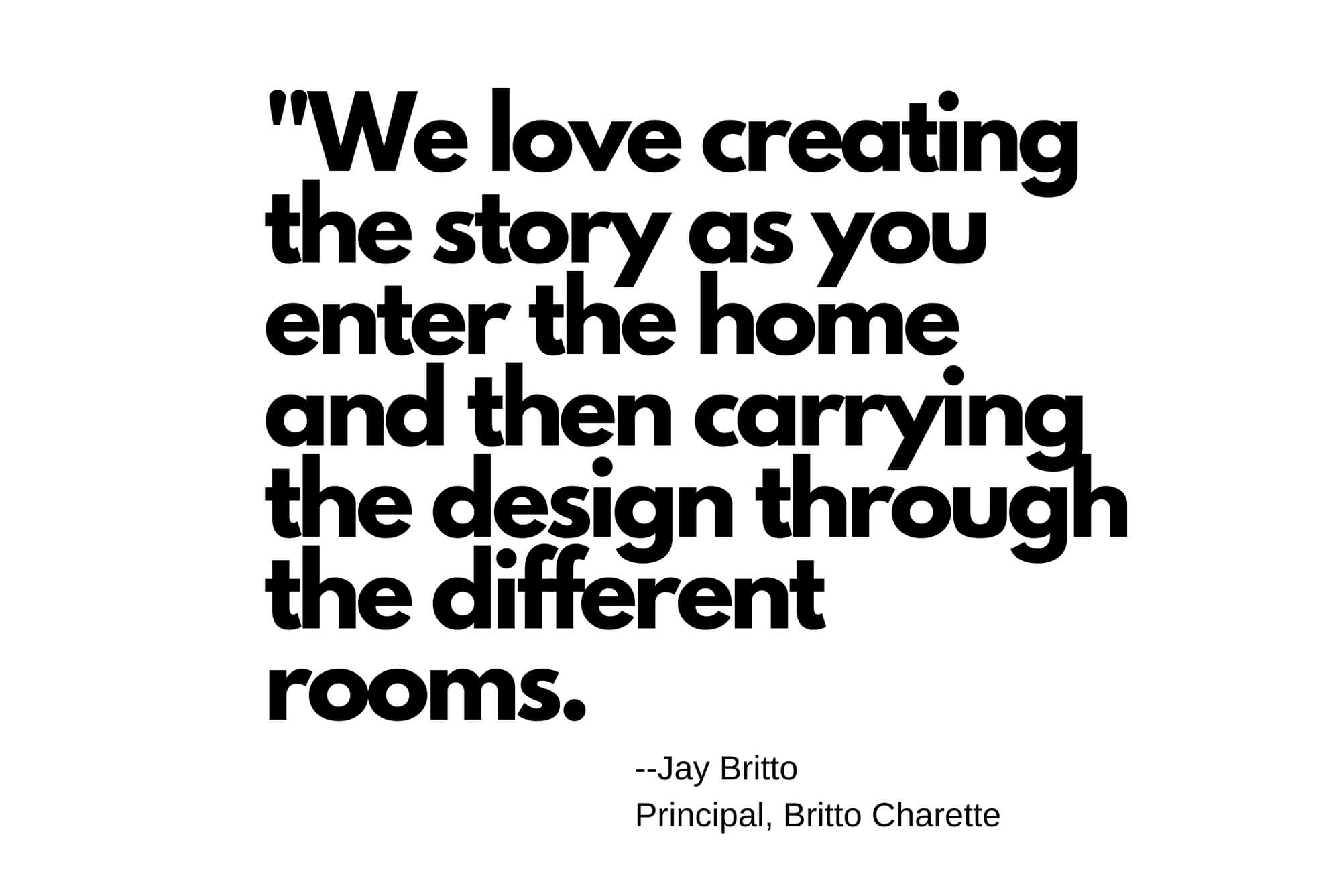 "Foyers are an important part of interior designs because they introduce you to a home and help tell the story of the family who lives there. But, unfortunately, they often get very little attention," says Jay. According to David, foyers in Miami's high-rises are often "dead" spaces. "You exit the elevator and it's a separate enclosed space, as required by code. But it's anticlimactic to exit an elevator and walk into a dark and an uninspiring room—especially if you have private elevator access to your suite." The answer? He recommends fire-rated glass that will provide views, natural light, and a sense of welcome. "We also highly recommend going with lighter-colored finishes so you don't have a dark or dimly lit foyer. One full wall of accent material, such as a mirror or a vibrant wall covering will enliven the space. Another great solution is to add wall sconces or something that sparkles and gives the foyer life and character."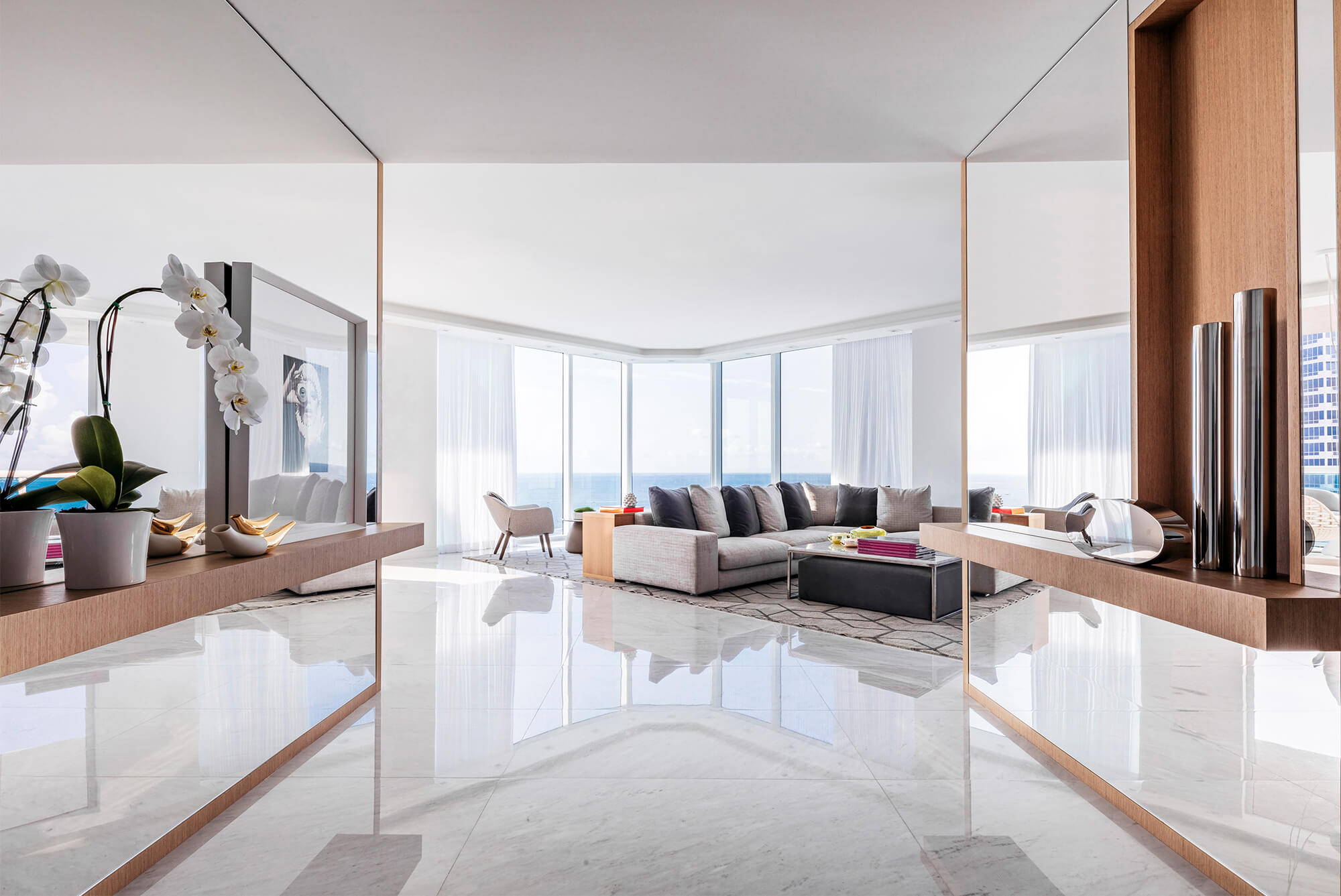 PORTOFINO FOYER by BRITTO CHARETTE; photo by Kris Tamburello
When our Britto Charette team designs interiors for beach homes and vacation residences, the clients' needs are very different. "The foyers of vacation homes should be designed with utility in mind. Our clients need a place to stow flipflops and beach gear. If you have a foyer but no mud room, then consider adding hidden storage," says David.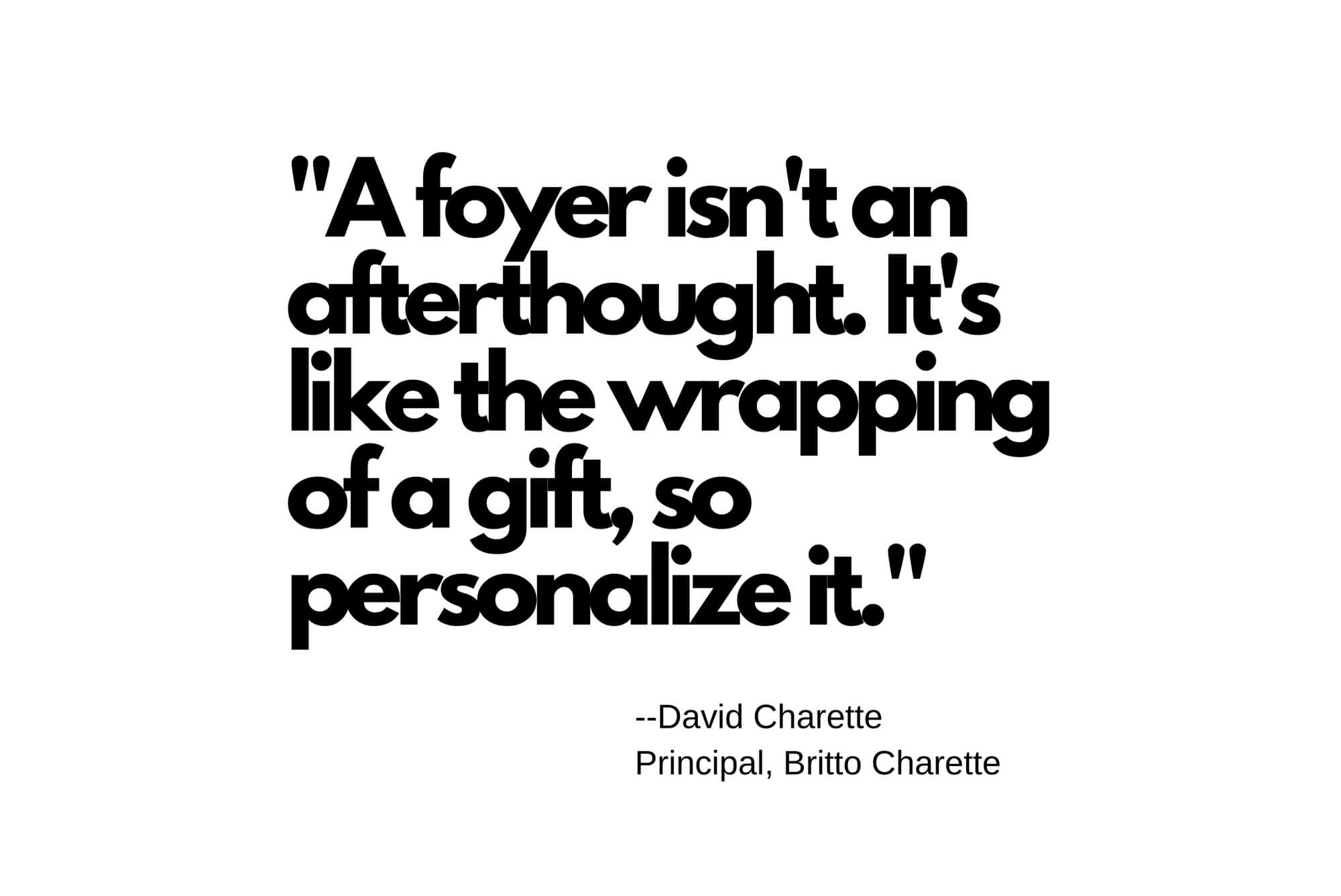 Decorating the foyer in a single-family home? David says it's important to assess how you use the space. Do you need a spot to place keys or to stow umbrellas or shoes? Consider hidden storage to provide organization and prevent clutter. Do you entertain often? If so, the foyer can provide a place for floral arrangements as people arrive and gift bags as they leave. "I recommend placing a large mirror in your foyer as it is a place for you to check your appearance as you leave the house. It also acts as a second window because it reflects light, bouncing it around the space, and can be very dramatic."
No matter the type of foyer you have, David says you can implement several ideas today to improve the space. "First, ask yourself, 'When I enter my home, is it organized? Joyful?' A foyer isn't an afterthought. It's like the wrapping of a special gift, so personalize it. But before all else…clean it up. Remember, clean is classy. Banish clutter."
Second, David recommends adding accessories such as flowers, candles, and even a custom scent. "And don't forget about those little details like an umbrella stand. Sollos has a beautiful piece by Jade Almeida." David also suggests using pedestals, on their own or in groupings of varying heights if space permits. "Luxury Living in the Miami Design District has a beautiful pedestal that is perfect for showcasing your art or accessories."
Have a large foyer or double-height space? Consider installing a really dramatic chandelier to act as a focal point. Or, suspend a bold piece of art from the ceiling. You can also show your family's character with a curated collection of Instagram photos that you enlarge and frame.  Jay used this technique in his own Marquis residence, injecting his living room space with bold, fun color. "You can easily take photos like these and create a gallery wall in your foyer. The pops of color will keep the space light and interesting," says Jay.
"Expansive foyers also provide a fabulous opportunity to incorporate rugs," says Charette. "They imbue the space with a soft and inviting element that pulls everything together. We also like to use large format art on one wall that creates a focal point and draws the eye into the home. An invitation to come in, explore, and relax."
Located in Wynwood, Miami?
We invite you to contact us at our office:
Or you can subscribe to our Newsletter and get design inspiration, global trends, cutting-edge luxuries, and fresh ideas.