The wallcovering specialist fabricates modern styles that are luxurious and on-trend
Remember the wallpaper at Grandma's house? Chances are at least one room of her home was papered with a busy floral pattern that, once applied, remained stuck to the walls forEVER. Well those days are gone. Thanks to new technologies, today's wallcoverings are blissfully easy to customize—perfect for those of us who want to update our rooms without completely remodeling them.
BRITTO CHARETTE's Design on a Dime vignette with EYKON wallcovering
Britto Charette is proud to work with Eykon Design Resources, a Tennessee-based company that creates some of the coolest luxury wallcoverings and home products on the market. Our South Florida sales rep, Rosemary DiModica, helps interior design teams like ours with selection, ordering, and production.

But how to choose? With Eykon Design Resources' vast library of patterns and materials, the choices might seem overwhelming. That's where DiModica and her team come in. "I really listen to our clients and I ask myself, 'What are they really saying?' Intuition plays a big part in our discussions and it always works out well. Our clients know we understand their goals and that we're working together." DiModica's ability to find the perfect wallcovering is just one facet of the exceptional customer service our firm has come to expect from Eykon Design Resources.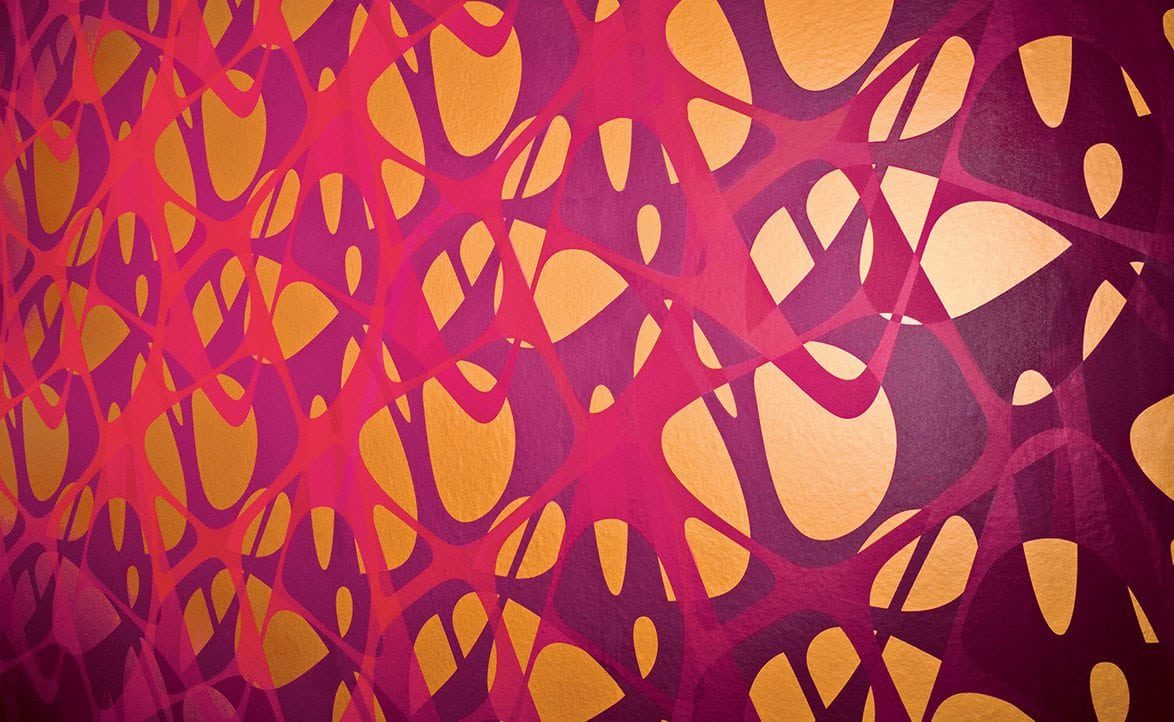 DiModica and her team are most enamored with the new large format designs, like these Zaha Hadid-inspired graphics, because they provide a bold, fresh look. She's also enthusiastic about the materials: glass fiber, silk, linen, recycled wood pulp, and more. "Glass fiber is an exciting material because it's more durable than vinyl and it encapsulates formaldehyde in the walls," she says. "Plus, we're constantly evolving. For instance, we're manufacturing 35 oz (industry norm is 20 oz) coverings and that allows us to get a deeper emboss pattern. That, in turn, means it's more durable and perfect for commercial applications. We're finding that its durability is something residential designers love, too."
Eykon Design Resources is also working to make its products and services ecofriendly and has a line of sustainable interior finishes. Once old wallpaper is removed, the company will even recycle it for their clients. "The glues are better, too," says DiModica. "They are kinder to the environment and offer better breathability."
What inspires DiModica? Designers who are not afraid to go out of their comfort zone.
And that's exactly what Britto Charette did for Design on a Dime. Last year, principal David Charette began designing a living room vignette for the charity fundraiser and his thoughts immediately turned to the mission: ending AIDS by 2025. "Jay and I wanted our vignette to really reflect the purpose of Design on a Dime. So I thought, what about using a medication like Truvada (a pill that's used to prevent AIDS) as a focal point? And that led me to designing a wallcovering using the pill's image. Our team received permission from the manufacturer and then we reached out to Eykon Design Resources with the proposal. Rosemary was great. She said yes and donated the product, her time, everything. We're so grateful!"
CH Construction hangs EYKON wallcovering for DOAD
Thanks to Rosemary and her team at Eykon Design Resources, the wallcovering was a hit. Best of all, the two-day event raised more than four hundred thousand dollars.
Learn more about Eykon Design Resources' comprehensive line of quality wallcoverings, decorative drapery fabrics, upholstery, digital products, cubicle curtains, and luxury vinyl flooring by visiting their website. You'll find the company's work at many notable venues, including a panoramic graphic with supersized repeats that is installed at the Carnival Cruise Ship terminal at the port of Long Beach, California.
You'll also find Eykon Design Resources on
FACEBOOK
Instagram
Twitter: @Eykon
Pinterest