If you missed the episode featuring our very own Jay Britto's luxurious residence when it aired, we've got you covered. Click here to watch as host Alena Capra tours the private residence and talks with Jay about his design inspiration.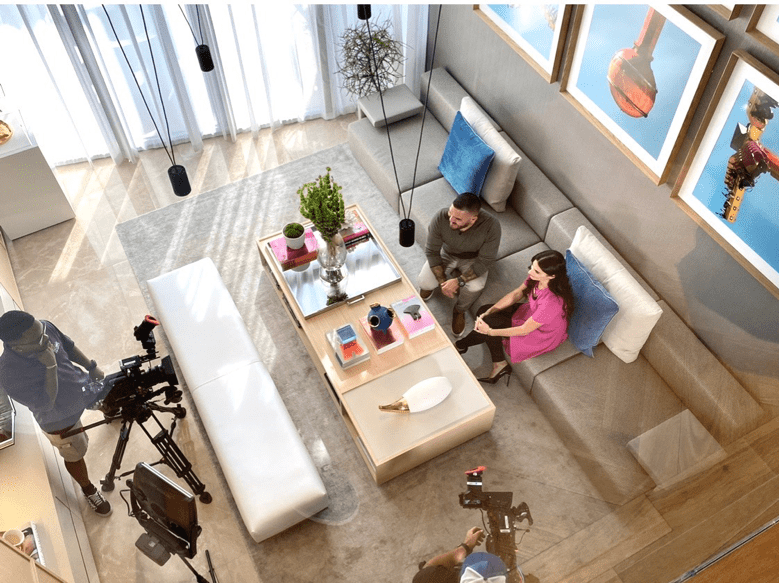 SOFLO Home Project host Alena Capra interviews Jay Britto of Britto Charette at MARQUIS in Miami
We sat down with Capra, the newest host of SOFLO Home Project and the founder and principal designer of Alena Capra Designs, to discuss how her own career in design has evolved.
The native New Yorker, who now calls Fort Lauderdale home, has been designing since 2003. Inspired by travel, fashion, and nature, Capra explores some of the most beautiful interior designs in South Florida and her experiences in the design industry make for compelling conversations with the designers she interviews each week.
Two of the first things you notice about Capra? Her warmth and approachability—qualities which help put her SOFLO Home Project guests at ease. She's also generous, sharing her industry expertise with others. Capra, a Certified Master Kitchen & Bath Designer® (CMKBD), stresses the importance of establishing good relationships within the design community and has many recommendations for new and aspiring designers. "Become affiliated with design organizations like NKBA and ASID. Early on in my career, my first certifications helped me position myself as a qualified professional in those areas. I started out first designing solely kitchens and baths before I moved on to full interiors as well."

Capra also emphasizes the positive impact of social media on her own design firm. "I created a Facebook business page back in 2009—it was all we had but it worked great. I still get work through my Facebook page from referrals through people I know. I think it is best to 'put yourself out there' on social media, because you never know who is watching. Some of my greatest opportunities so far in my career have come from simple connections to others who have noticed what I do by putting things out there on social channels. I am forever grateful for those people who have helped me along the way."
And how does Capra manage and deal with competition in an industry that, at times, seems saturated? "Don't compare yourselves to others—we all are making our own way—and there is enough room for everyone!"
Because Capra makes it all look so effortless, you may be relieved to know she is human after all. That's right, even Capra has needed support along the way. "My biggest challenge when first starting my business was making sure I had the tools to run the business side of it. The creative part came a lot easier! For younger designers going into business, some of the most important things are proper contracts and accounting."

Finally, Capra is looking forward to the new season of SOFLO HOME PROJECT. "We have such a great variety of design styles to show that reflect South Florida. I've also got some fun makeovers planned, and a few other surprises. We've got a lot of great things coming up that I am excited about! Stay tuned!"
Want to learn more about Alena Capra? Call 305.772.6782.
You can also follow her on the following platforms:
IG: @alenacapradesign
IG : @alenacapradesignsstudio
website: www.alenacapradesigns.com
twitter: twitter.com/AlenaCapra
facebook: alena capra designs, llc
Located in Wynwood, Miami?
We invite you to contact us at our office:
Or you can subscribe to our Newsletter and get design inspiration, global trends, cutting-edge luxuries, and fresh ideas.