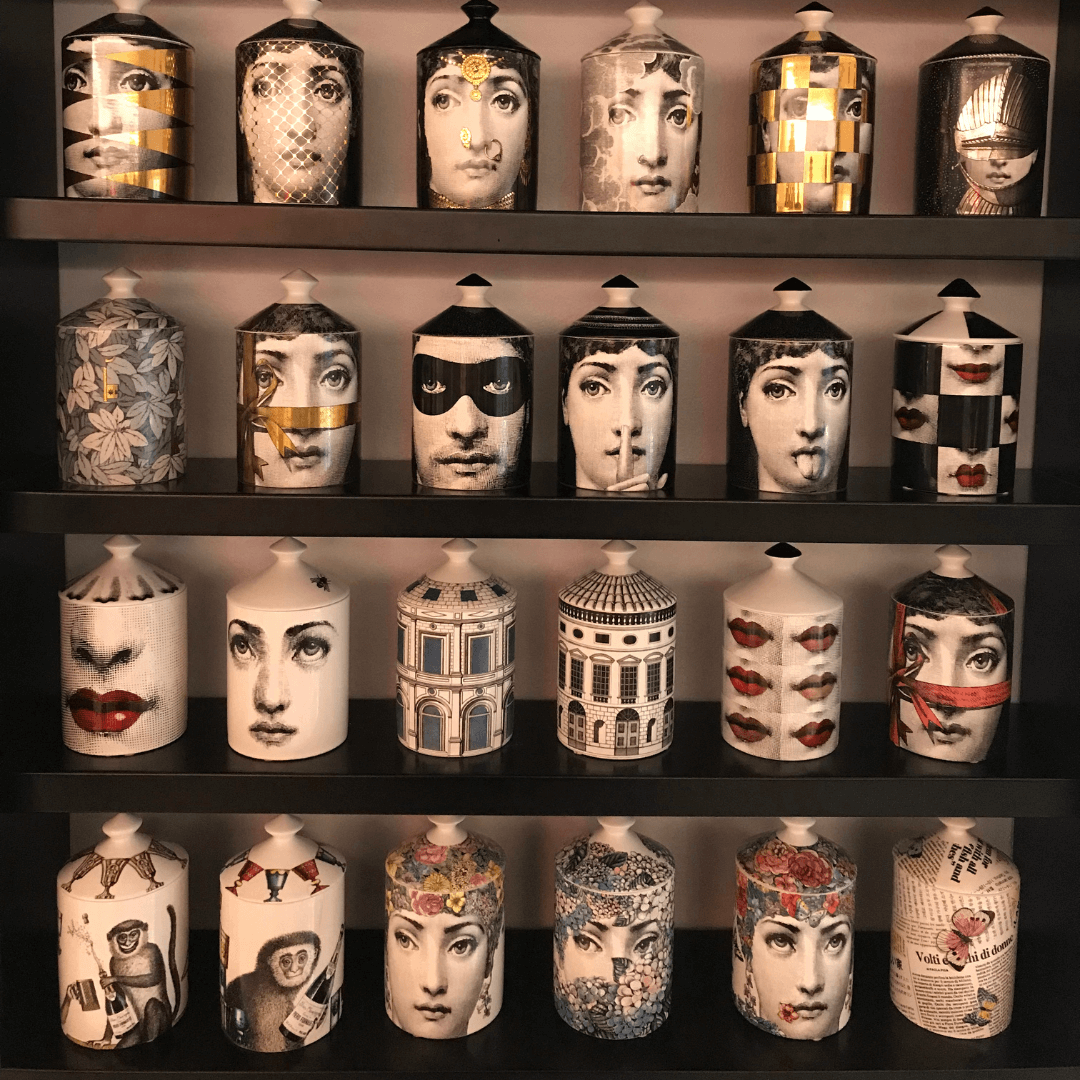 Fornasetti showroom, Milan
A visit to Milan isn't complete without a stop at Fornasetti's famed showroom. It's where the face that launched a thousand decorative objects beckons as beguilingly now as when Piero Fornasetti launched the brand in 1940.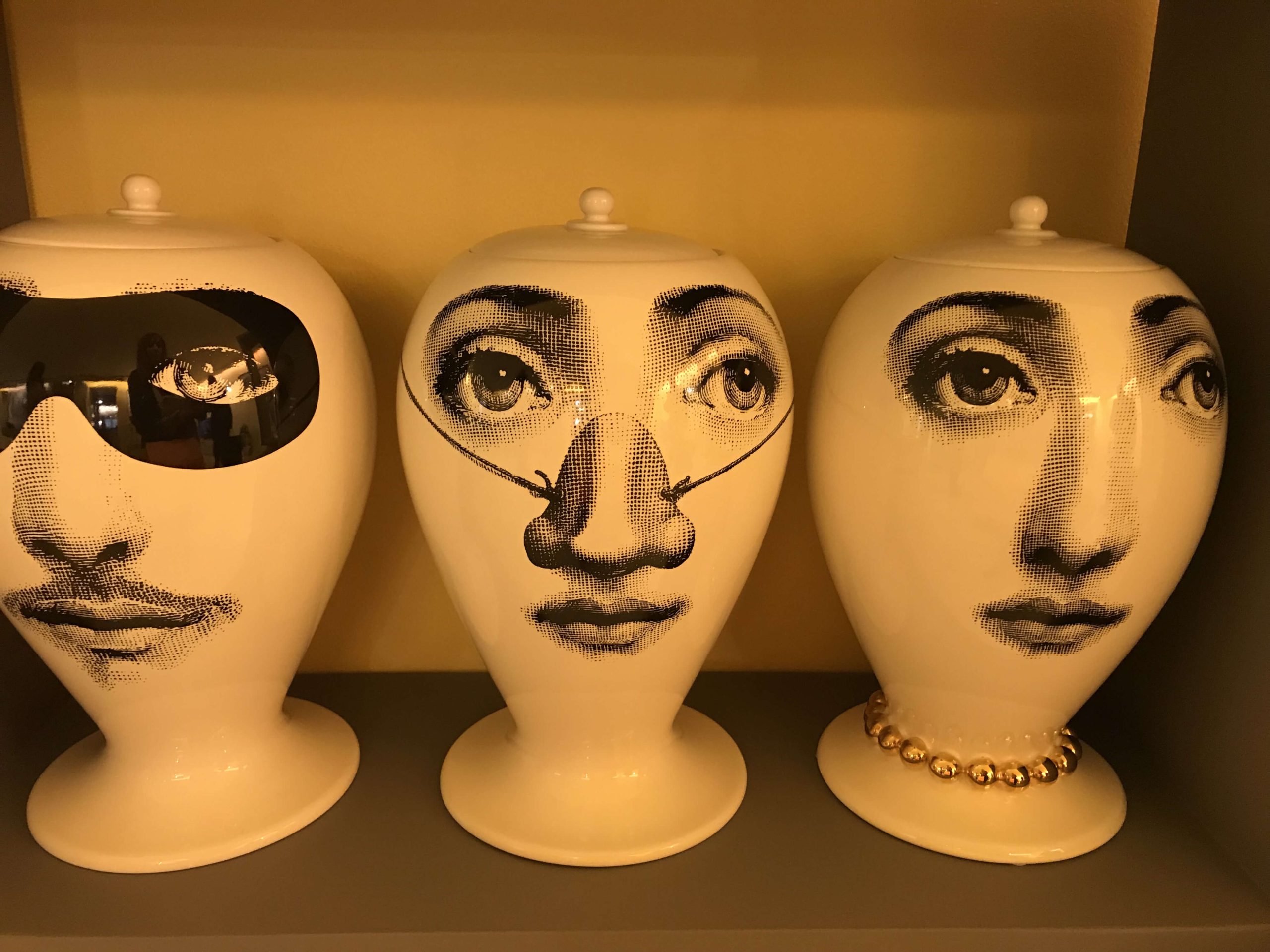 Fornasetti showroom, Milan
Fornasetti's showroom has long been a beacon for members of our design team. While studying architecture in Volterra and Firenze in the 90's, principal David Charette fell in love with the brand's unmistakable aesthetic. David and Jay have purchased Fornasetti pieces for their own homes and have specified Fornasetti in some of their clients' recent interior designs.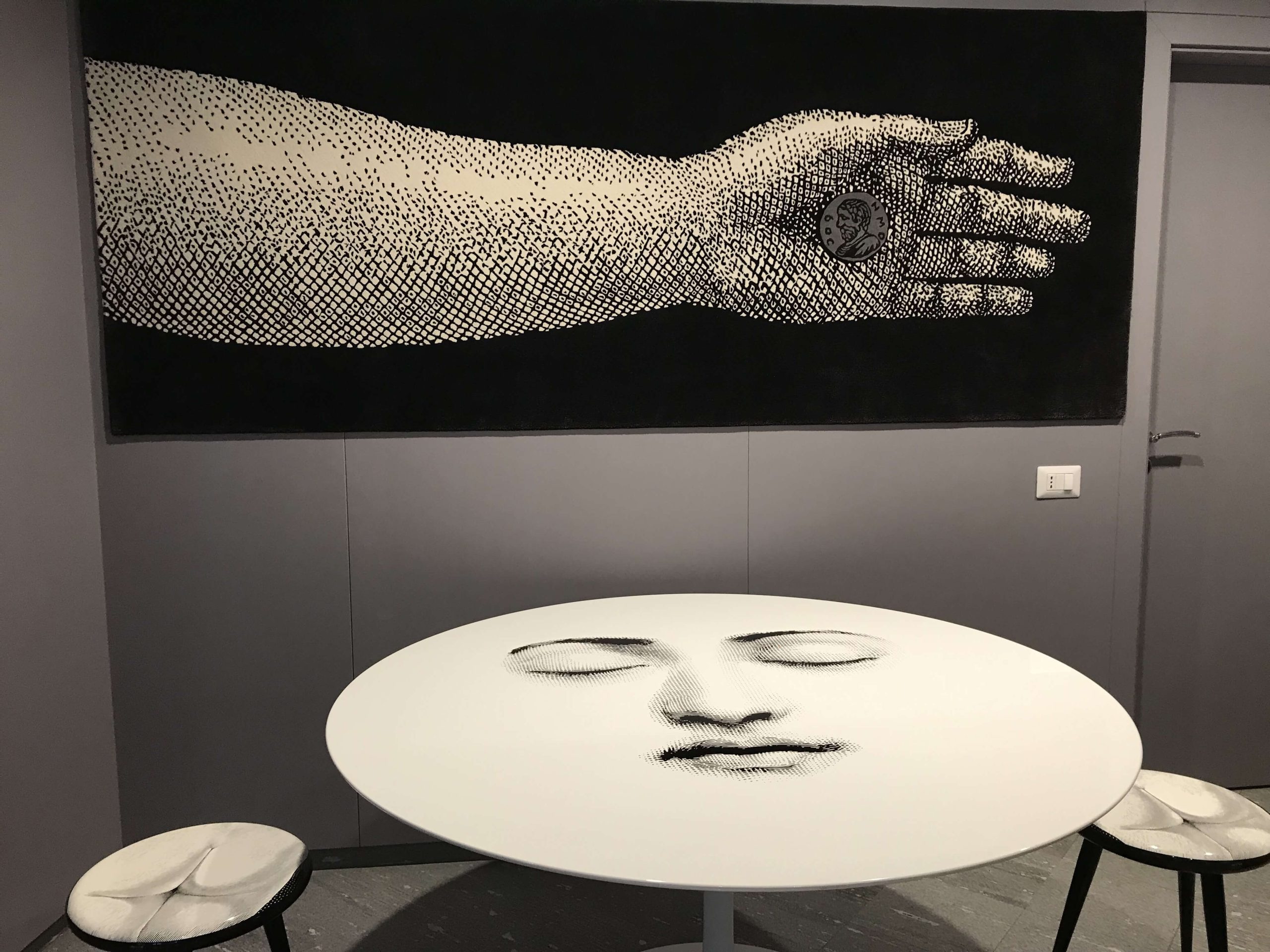 Fornasetti showroom, Milan
David Charette at Fornasetti showroom, Milan
So when Piero's son and Fornasetti's artistic director, Barnaba Fornasetti, invited a select group of interior designers to visit the historic family residence during Salone del Mobile 2022, Jay was eager to accept.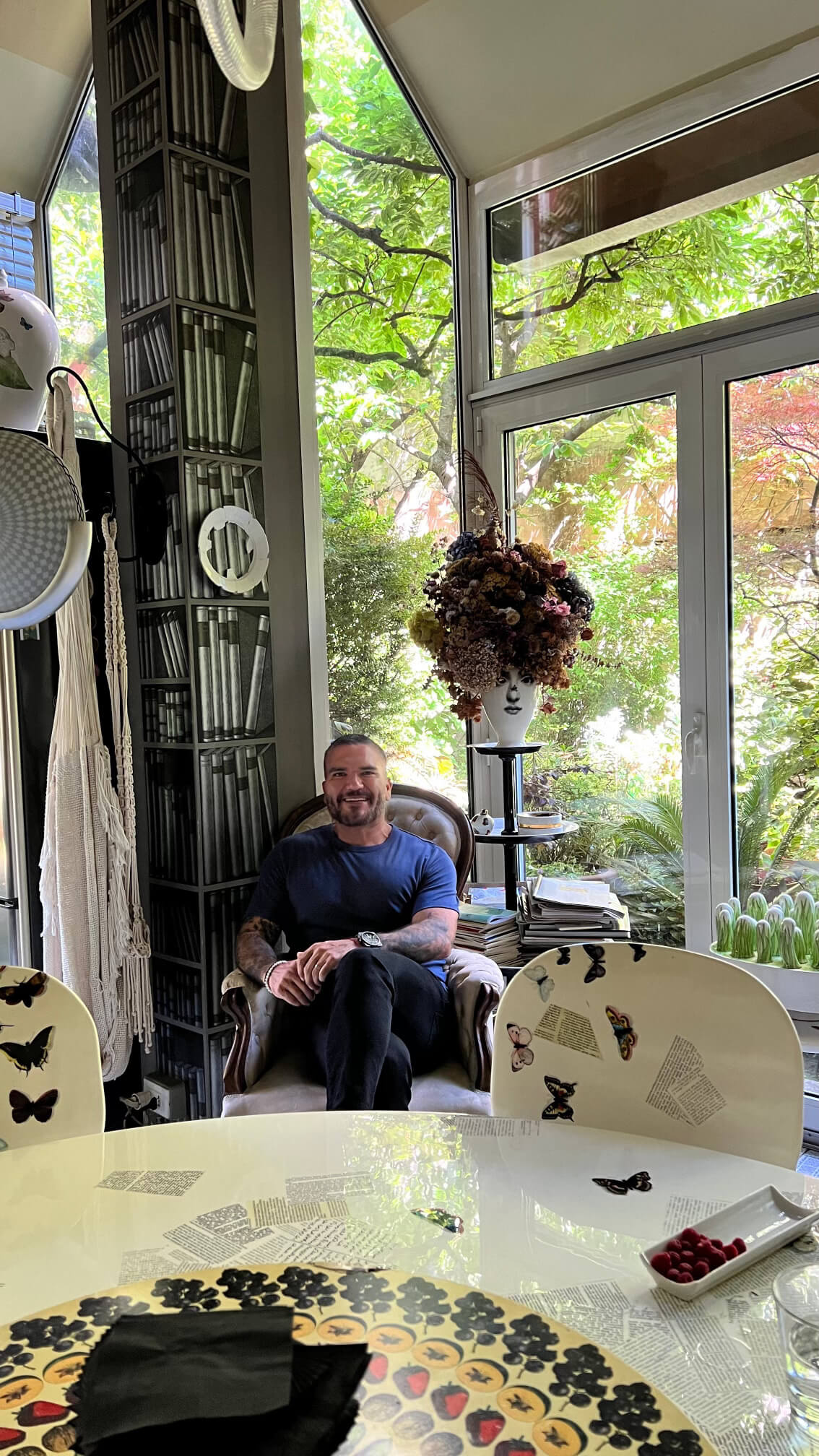 Jay Britto at Casa Fornasetti, Milan.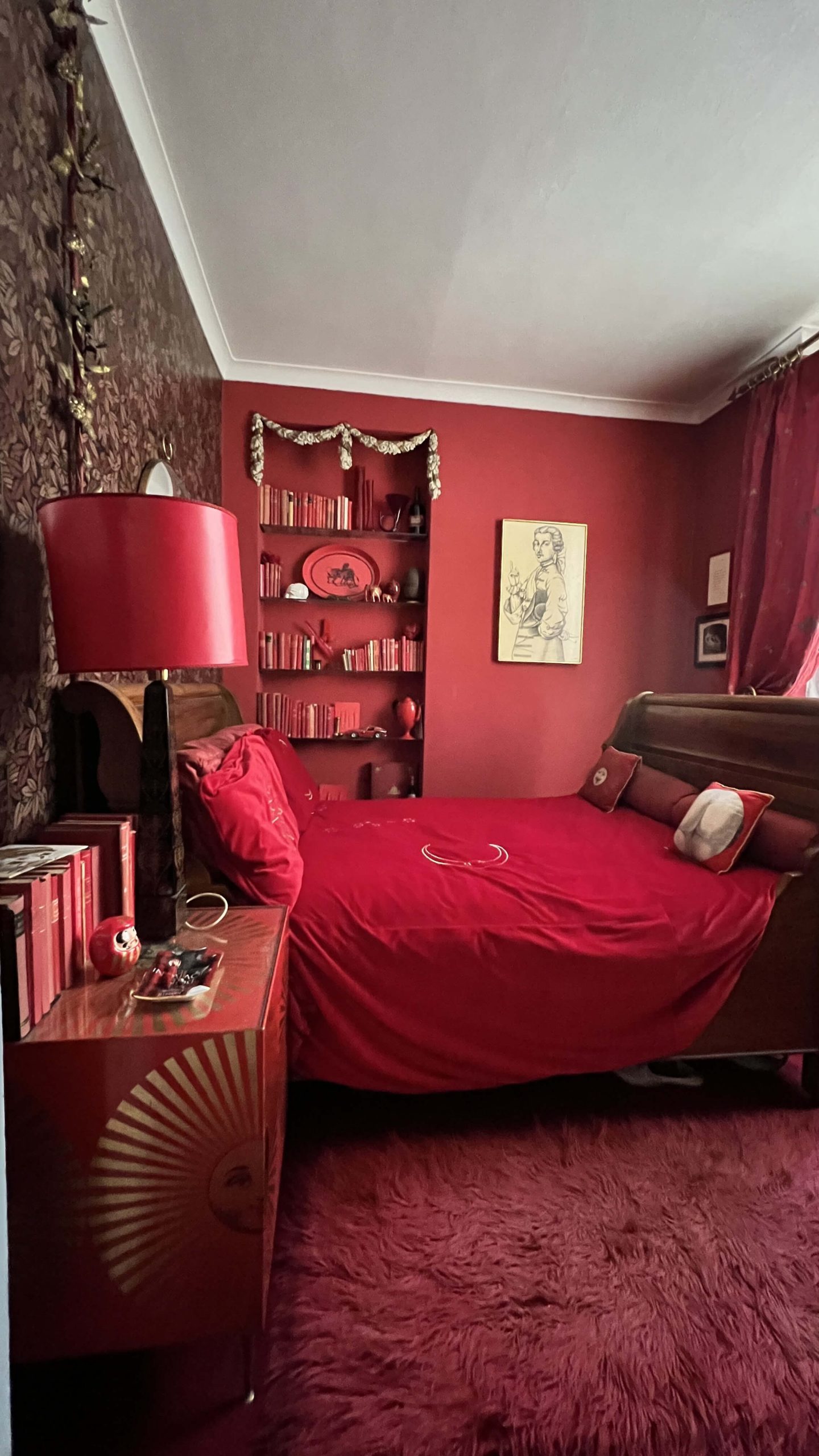 Casa Fornasetti Red Room, Milan
Casa Fornasetti Bathroom, Milan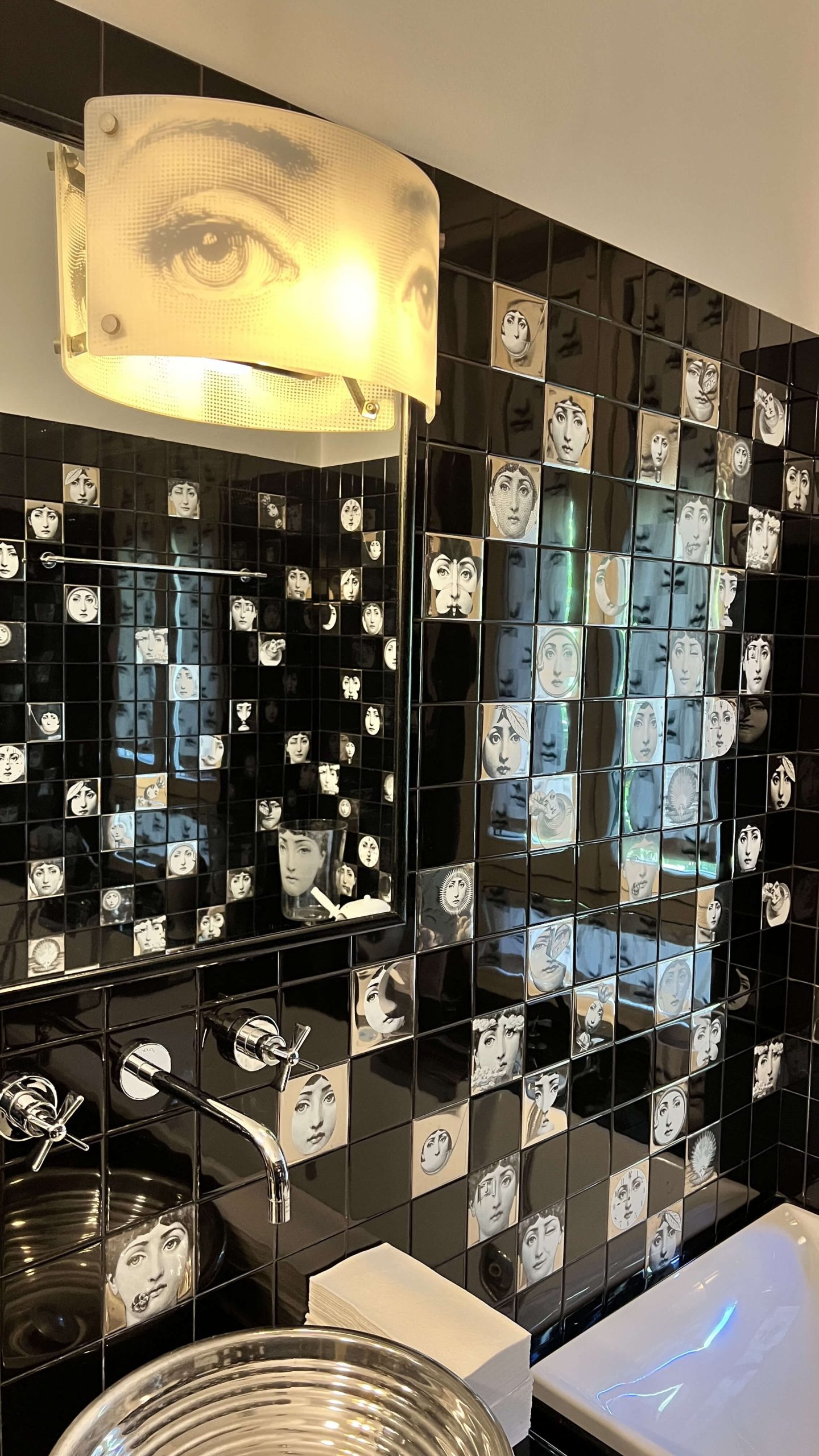 Casa Fornasetti Bathroom, Milan
THE GARDEN OF POSSIBLE NATURES; Capitellum & Ara Solis; photo courtesy of Fornasetti
THE GARDEN OF POSSIBLE NATURES; Top: RIGATO ARMCHAIR AND SOFA AND SOLITARIO TABLE; photo credit Fantacuzzi Galati
Fornasetti also unveiled the Garden of Possible Natures, a collection of outdoor furniture and upholstered pieces that the brand describes as "a landscape where day coexists with night, spontaneity with control, magic with order. The mise-en-scene of untamed nature, with its mysterious, primordial forms, and cultivated nature, with its reassuring rules and refinement."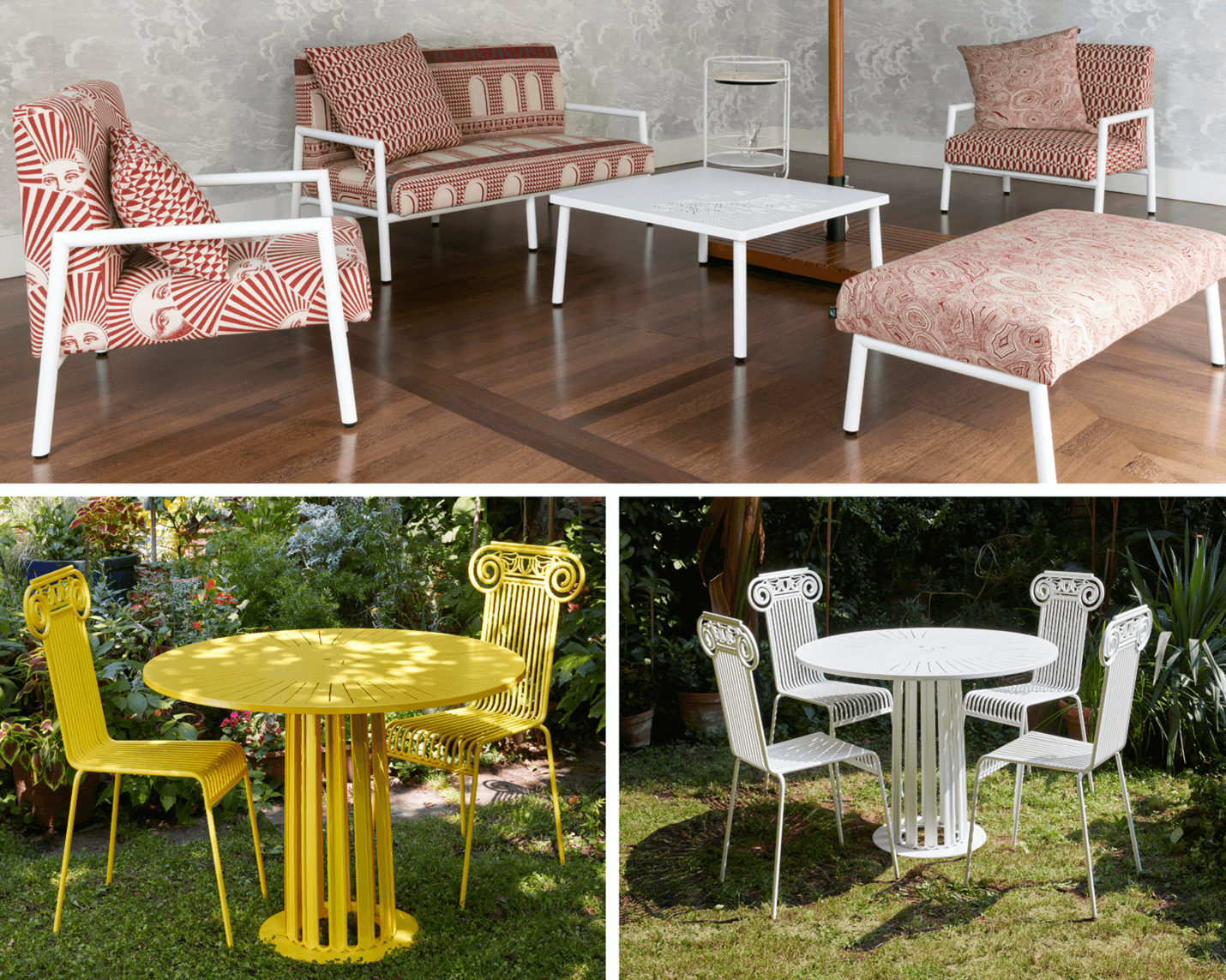 THE GARDEN OF POSSIBLE NATURES; photo credit Fantacuzzi Galati
"The garden is one of the places where I like to cultivate and nurture not only plants and flowers, but also ideas and creativity. Its perfect interweaving of the spontaneity of wild greenery and the rigour of vegetation shaped by the hand of man reflects the image of our deepest selves. The garden is the place where spontaneity and control coexist."
      –BARNABA FORNASETTI, Artistic Director of Fornasetti.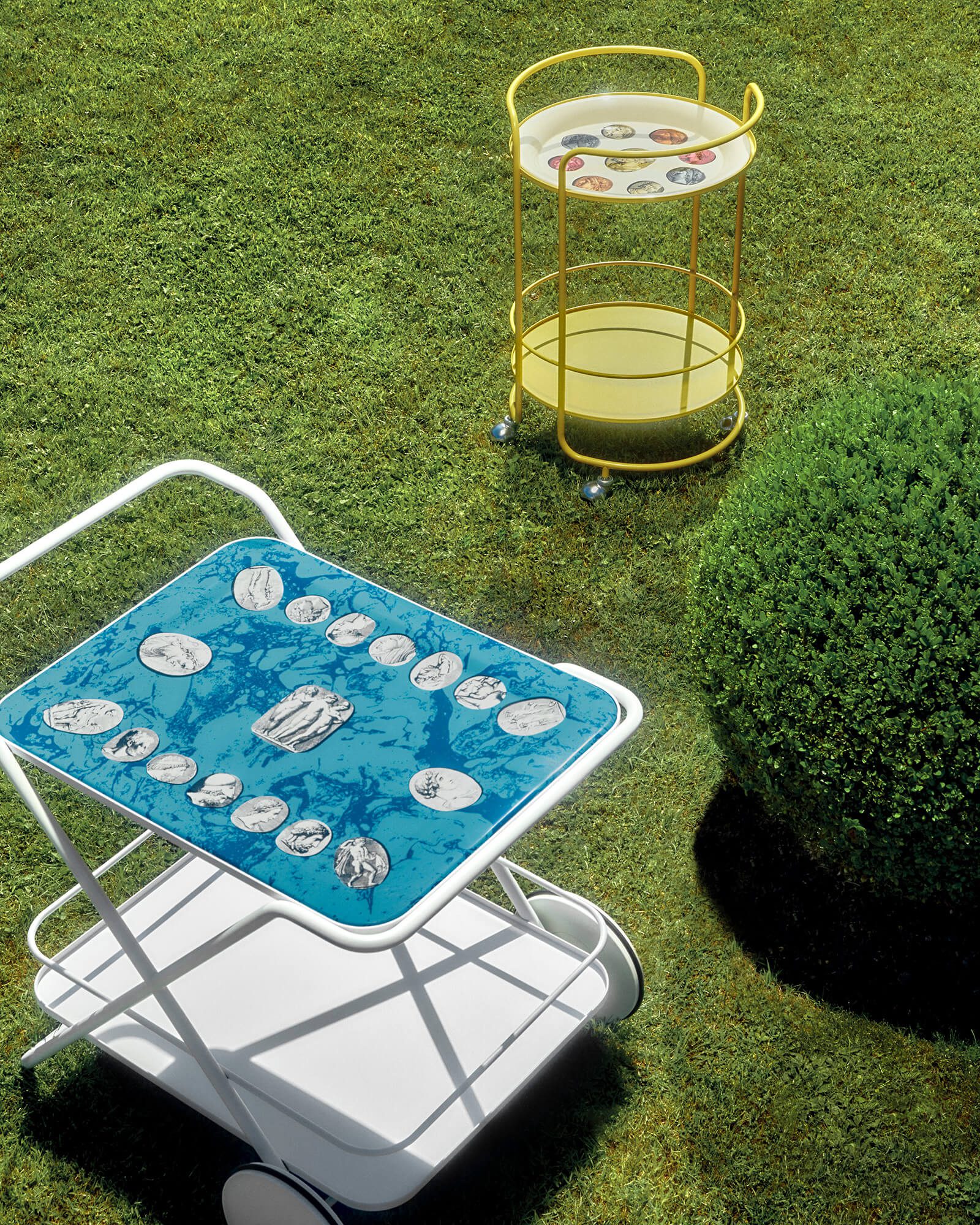 Indoor-outdoor trolleys accommodate Fornasetti trays; photo courtesy Fornasetti
The Capitellum chair and the Ara Solis table have a lightweight stainless steel structure, that allows them to be stacked for ease of use. "I love the detailing on the outdoor furniture and the fact that it's stainless steel," Jay said. "And the upholstery colors are really vibrant and fun. But what really caught my attention was the way the pieces can be used to create a luxurious living room outdoors. Most of our interior designs in Florida include outdoor living spaces, so we are always looking for pieces that translate seamlessly and can withstand the elements. The Fornasetti outdoor collection provides lots of possible configurations."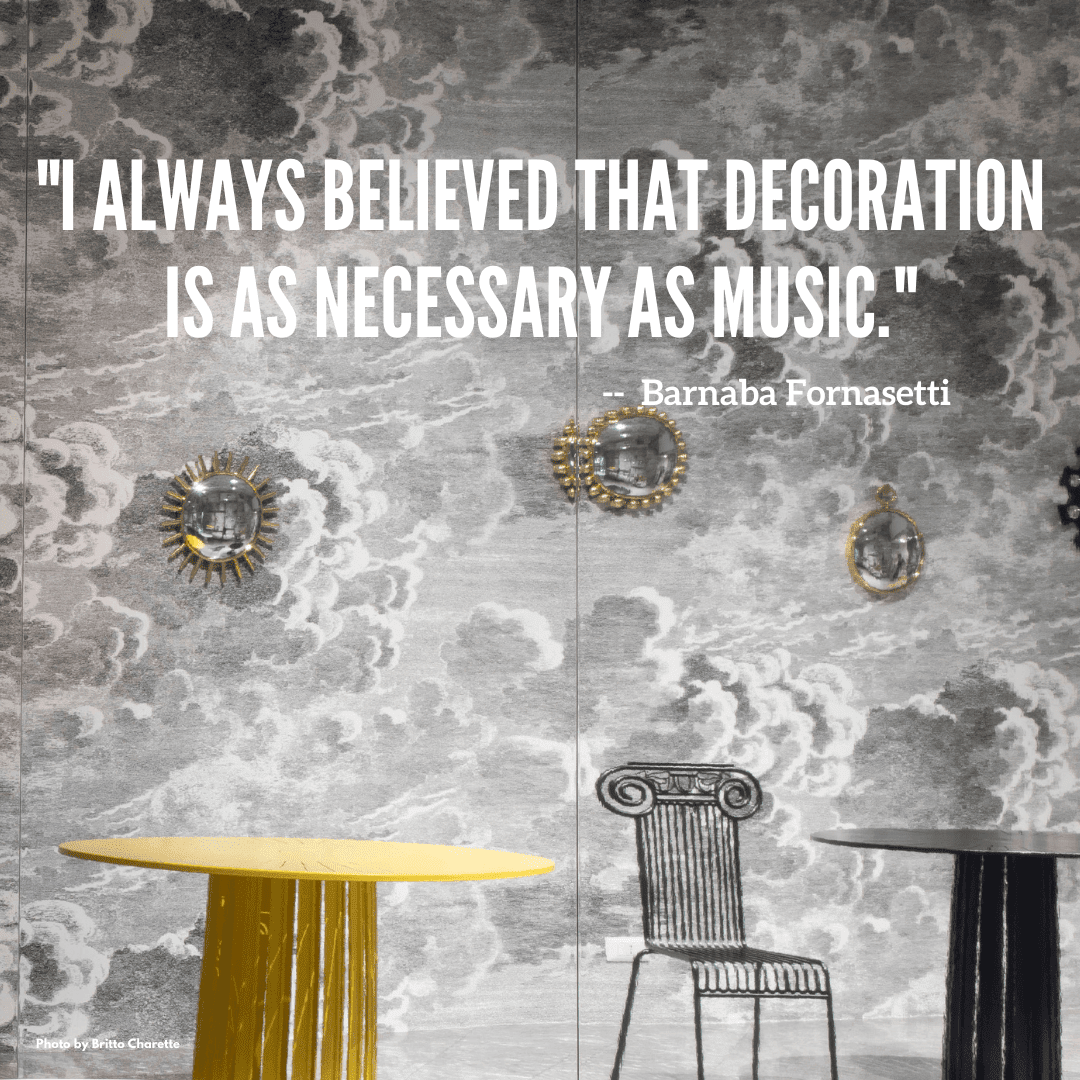 Our team is also crushing on Fornasetti's handpainted trays and ice buckets.
                Photos courtesy of Fornasetti
And we can't leave you without sharing the piece that left Jay awestruck: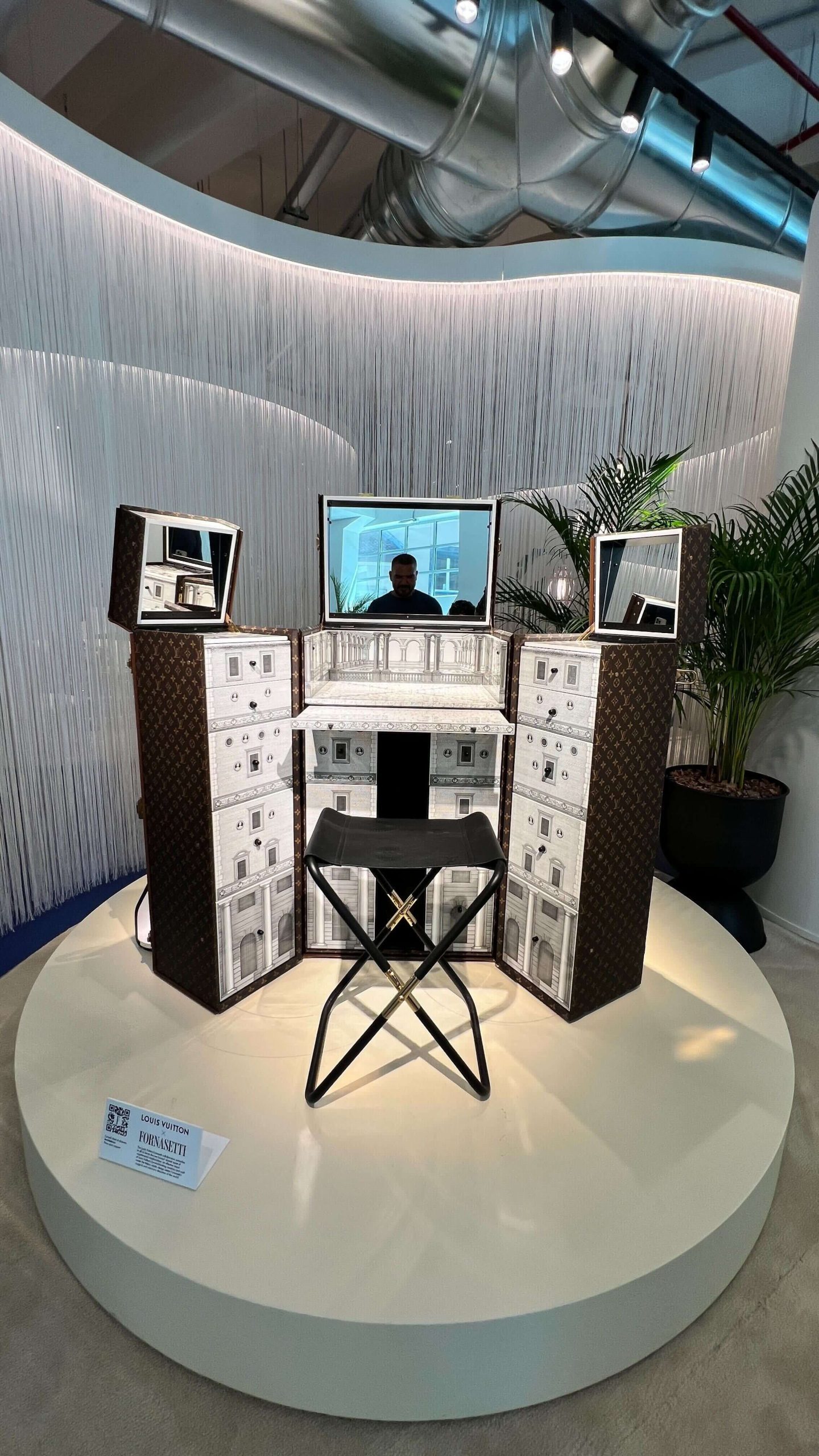 Malle Coiffeuse; Fornasetti and Louis Vuitton collaboration
Fornasetti's collaboration with Louis Vuitton is the stuff dreams really are made of. So, if there's a traveller on your gift list who has everything, this luxurious trunk just might be the answer. Follow the link to Fornasetti's website to read more about the collaboration.
Grazie mille to Paolo Alberti and his team at Fornasetti and to Lucia Schito from Mendelhan for arranging Jay's visit to Casa Fornasetti. A presto! 
Interested in learning more? You can follow Fornasetti here:
Instagram: @fornasetti
Twitter: @fornasettiofcl
Interested in learning more? Our team would be happy to share more information about our interior design services. You can reach us at 305.640.5005 or by email at contact@brittocharette.com.
Located in Wynwood, Miami?
We invite you to contact us at our office:
Or you can subscribe to our Newsletter and get design inspiration, global trends, cutting-edge luxuries, and fresh ideas.