"Simplicity is the ultimate sophistication." –Leonardo DaVinci

Miami boasts a plethora of high-end furniture showrooms—something that makes life for interior designers really exciting. One that leaves us swooning? Arravanti. It's a stunning space created by Flavio Arravanti and Craig Kowald and it's home to some of the most luxurious Italian brands.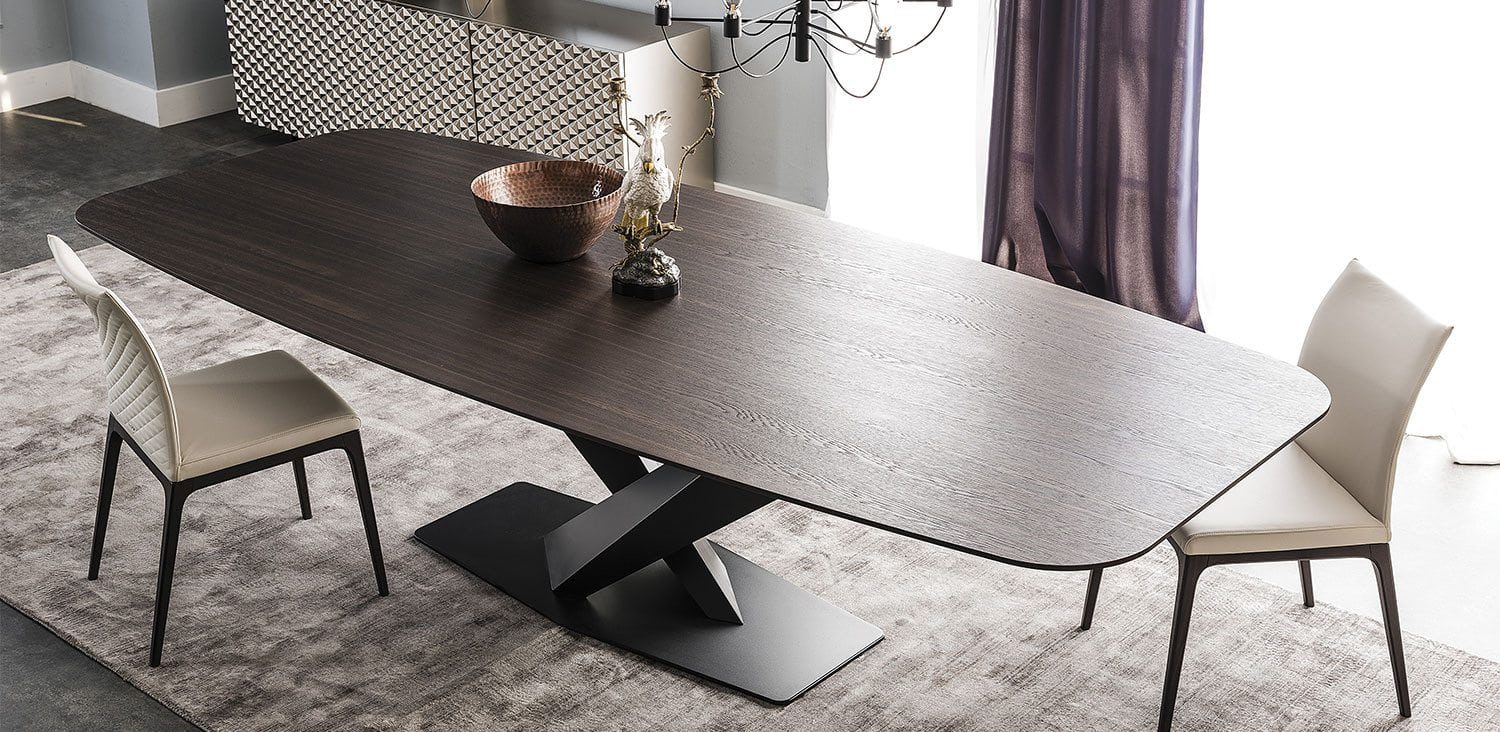 Cattelan Stratos Table: Stratos Table with base in titanium, black or graphite embossed lacquered steel. Marmi Calacatta, Alabastro, Ardesia , matte Golden Calacatta, glossy Golden Calacatta, matte Portoro, glossy Portoro or Brown Zinc ceramic top. The top is also available in Walnut, Burnt Oak or Natural Oak finishes. The Stratos is available in many sizes and is sure to make a statement in any home. The top is available in rectangle and also a special-shaped rectangular version.
The duo has been offering sophisticated design options to clients and trade professionals from coast to coast for nearly 22 years. "We strive to treat every customer with respect, ask the right questions, and ensure that the items they purchase will bring them years of enjoyment," says Kowald. "Flavio's knowledge of European furniture design and manufacturing is unequaled in this market. He has a true passion for the business and he offers our clients support and advice not only about the lines we carry, but those from many other leading manufacturers, as well."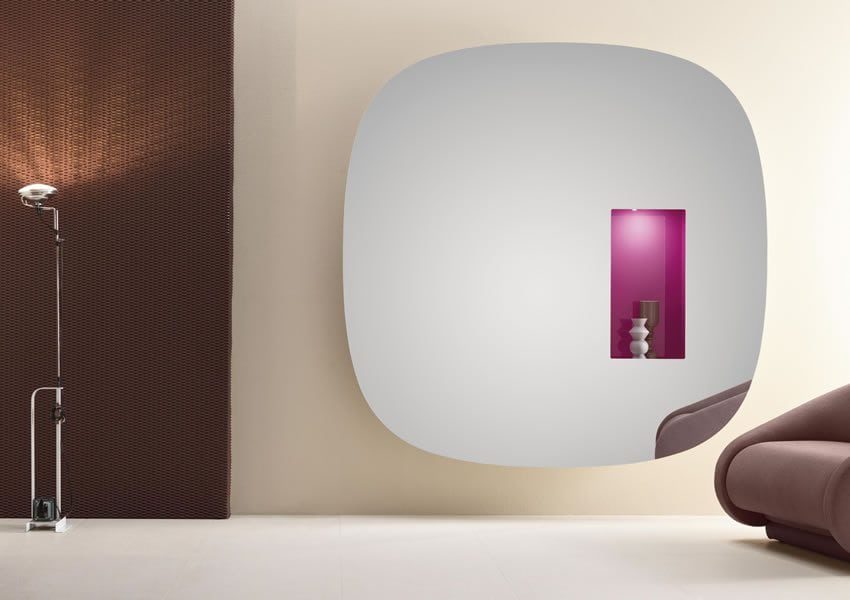 Tonelli Design APERTURE Mirror: Designed by Karim Rashid in 2017 for the Tonelli Design Collection, Aperture is a wall mirror of minimal design provided with a useful display compartment. Available in pink, black or white, it is equipped with LED lighting with motion detector sensor and is available in a stunning large version 79″ x 79″ or a smaller 42.5" x 42.5" version with horizontal display compartment. Both are available in clear or smoked mirror.

Arravanti opened its first showroom in Miami Beach in 1996. "We spent over a decade in the Design District but are now located in the Mimo District at 5046 Biscayne Boulevard. Our products are all quality, and many bear the Made in Italy mark, and are all certified Made in Italy. We represent a great group of companies, many of whom we have been working with for well over 15 years and we stand behind them, and they support us also. We have solid personal relationships with factory owners and export managers from many top Italian brands," says Kowald.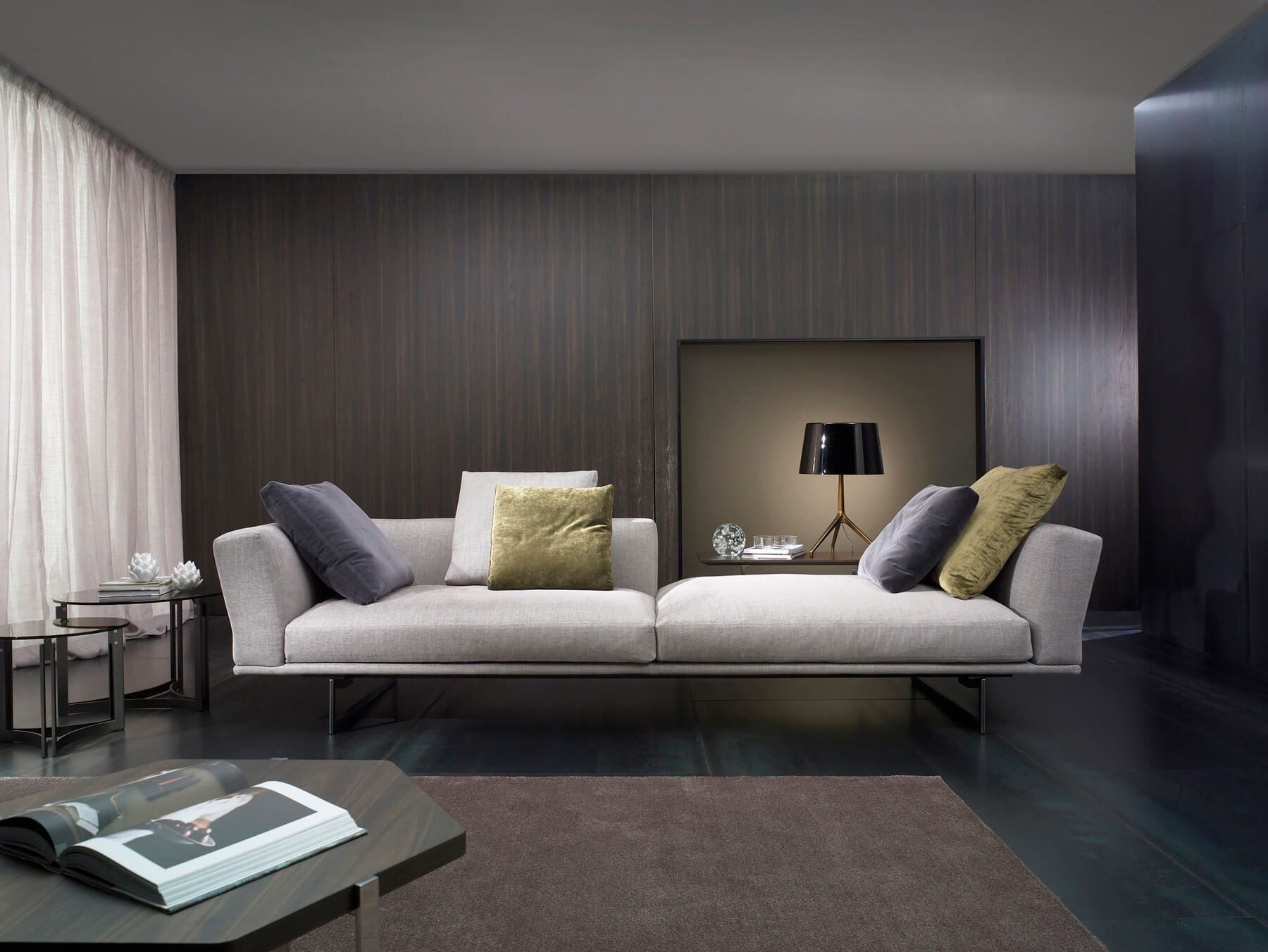 BELAIR Sofa: The Belair from CasaDesús is defined by its characteristic tilted arm which lends itself to the luxurious and modern design of this collection. Available as a sofa, chaise lounge, or larger sectional or chaise lounge configuration, the Belair is one of the newest collections from CasaDesús.
What's one of our favorite Arravanti offerings? The CasaDesús line, from Barcelona. "It's an exciting addition to our lineup," says Arravanti. "Made in a family-owned factory since the '70s, CasaDesús is innovative and contemporary. Their quality rivals any Italian brand. They have three new sofas debuting at Salone Del Mobile in Milan this April—we can't wait to see them. We are so fortunate to be their exclusive dealer, and we keep a great selection from CasaDesús in stock."
Mandalay and Mandalay Large: The Mandalay Collection is a complete modular interpretation of the contemporary sofa. The tufted foam seat cushions are characteristic of this collection. Combine the standard depth of the Mandalay with the extra deep seating of the Mandalay Large to create harmonious living spaces for either a formal or relaxed environment. All sofas from the CasaDesús collection are constructed using only the highest quality foams, paired with top quality fabrics for an incredible quality.

At Arravanti, you can expect the team to provide education and recommendations on new and existing products. It's one of the many things our team loves about them. They'll also work with designers to find the right solutions for their overall plans. "We can offer support on space planning and fabric selection, and guide clients on trends and products that will ultimately work for them and their space," says Kowald. "What sets us apart is our attention to every detail, personalized service, and our friendly and approachable team. We have built some incredible relationships with our clients over the last two decades. Arravanti stands by our products and our clients throughout the entire design and installation process."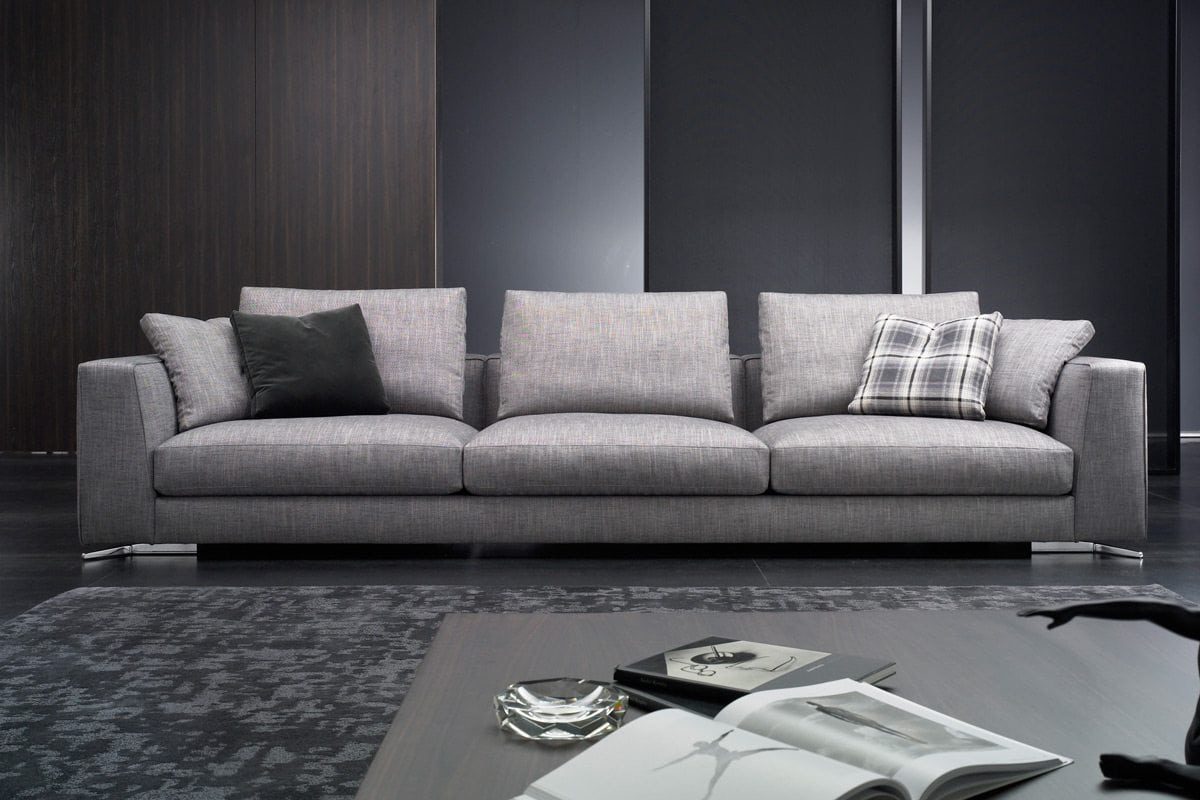 Flavio Sofa: One of the newest and best selling collections from CasaDesús, the Flavio Sofa is available in many different sizes and configurations to suit any space. A huge selection of quality fabric and leather options are available from the manufacturer's extensive collection and COM is also possible. Sofas, chaise lounge, or L-Shape and sectional sofa configurations are possible.
A few months ago, our Britto Charette team reached out to Arravanti asking for donations for the Design On A Dime charity event that aims to end AIDS by 2025. Flavio and Craig immediately answered our call. "It's important to us to help raise money for Housing Works/AIDS-FREE USA 2025 campaign. But giving to DOAD was also a way for us to show our support to local designers—like Britto Charette—who support us and the rest of the design community throughout the year. The event is also great fun and we are proud to be associated with it," says Arravanti.
"We donated a super comfy sofa from Bonaldo as well as a great swiveling armchair with a tall back from Alberta. Both pieces are Italian. These were great items for us to donate as they have both been popular sellers, and we thought it was an opportunity for someone wanting to support the cause to get their hands on some wonderful Italian made furniture at a fraction of the retail prices," says Kowald.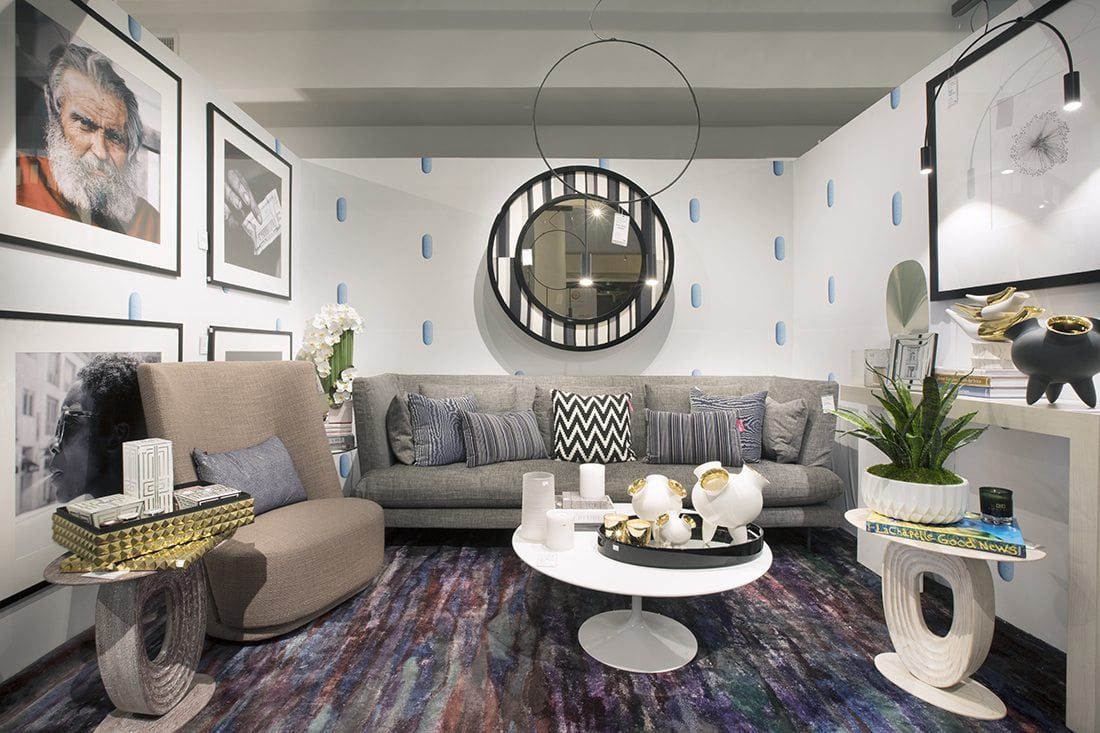 Britto Charette vignette at Design On A Dime 2018
How does the Arravanti team keep its finger on the pulse of design trends? They do what they encourage their clients to do: "Keep your eyes and senses open in order to really feel how colors and textures, natural elements and new materials all work in harmony. Colors and trends come and go, but the feeling a well-designed space gives you should last. Choosing quality pieces gives you a great head start, and getting the right advice will definitely be a big help," says Kowald.
Great advice from a fabulous company. To learn more about our friends at Arravanti, you can visit their website here.
Sovet SLIM Collection: From Sovet comes the incredibly minimal yet visually intriguing SLIM Collection. The collection consists of dining tables, coffee tables, and consoles (with 2 or 4 legs) with four die-cast aluminum legs, polished chrome finish or anodized lacquered, aluminum  profile. Top available in tempered lacquered or frosted lacquered glass 8 mm thick in various colors; in MATERIA; or ceramic. Wooden top available in the four-leg version.

Photos courtesy of Arravanti