LED screen display at CES 2023; photo by Yulian Monroy
If you're as excited about weaving together interior design and new technology as we are, you're in the right place. Our very own Yulian Monroy attended this year's CES event in Las Vegas and our team is still talking about the incredible tech he discovered.
Britto Charette interior designer Yulian Monroy at CES
From concepts to products that are already available, CES is the place for interior designers to discover and sample the latest technology that can be used to enhance interiors. From air purifiying/deodorizing systems to entertainment systems to televisions that function as art, CES offers designers the opportunity to explore cutting-edge home tech.
BC: Why was it important for Britto Charette to attend CES?
YULIAN: Britto Charette is a leader in the interior design industry. We are innovative and always looking for ways to offer our clients the best elements available on the market and that includes the best technologies. Our purpose is to make spaces perfect. By that, I mean our spaces need to be beautiful but also functional, so we need to be on top of the latest technologies that benefit the designs and our clients' way of life.
WHY ATTEND CES?
Interior designers can find inspiration with the latest technology
Designers can find ways to integrate the new technology into interior designs, thereby providing clients with a comprehensive design package
Designers will discover functional yet beautiful technology that can enhance the aesthetics of an interior design—not compete with it
BC: Were there any tech features that were especially appealing to our clients and homeowners?
YULIAN: Yes, the LG air purifier combines the latest technology to integrate new filters with fresh water. This gives the sensation of being in front of a window with fresh air. It can also be programmed to treat certain allergies and to diffuse medications, etc.
LG Signature air purifier
YULIAN'S TOP PICK FROM CES 2023
YULIAN: I love this roller screen because it allows us to integrate AV in areas where it was a challenge before. For example, in front of a bed or wall of windows, the tv can be displayed when it is in use and then can be rolled when it is not. Also, I love that it can double as an artificial fireplace. Our interior designs include a lot of custom millwork, so our team is happy that this TV can be integrated inside cabinets, marble counters, etc. A luxury item, this rollable 4K smart TV with AI retails for a cool $100k. But just imagine the possibilities.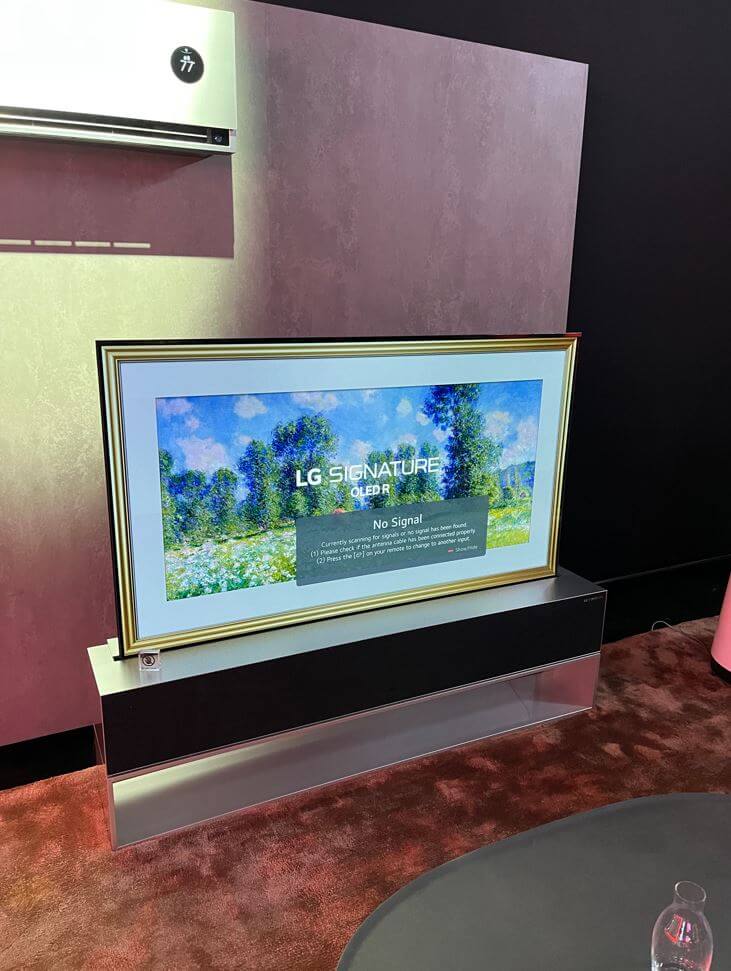 LG Signature OLED R; photo by Yulian Monroy
Another scene-stealer?  The 50th anniversary concept piano by Roland Corporation. With fourteen 360-degree speakers placed within the piano frame, Yulian said a bold three-dimensional sound emanates from the piano box. But the best part? The engineers have pushed the boundaries, adding hovering drones to enhance the acoustics. You can read more about the concept piano here.
Roland 50th anniversary concept piano; photo by Yulian Monroy
BC: How is tech being incorporated in BC designs? Did the show give you new ideas for incorporating more or different tech?
YULIAN: We work hard to incorporate good technology in our designs. But sometimes the latest technology is not necessarily the best technology. That's why it's important for us to be on top of new technologies in order to compare and integrate them in our designs. For instance, CES gave me ideas as to how to integrate new wireless tv technology. It's exciting because now we need to provide only power. Historically, wiring has been an issue in marble or millwork walls. But with the new LG TV, we can place it virtually anywhere without too many complications. Same with the roller TV. It can be hidden in benches or counters. And the LG expanded video screens will allow us to create interactive home theaters and gyms. Each of these technologies means new design opportunities for our clients and our team.
"CES is all about diversification. In a furniture show you will find only furniture. Attend a medical equipment conference and you will find medical equipment. But CES is exciting and different because it has everything related to consumers, so you see the latest products from vendors and specialists in every market sector."
Interested in learning more? Our team would be happy to share more information about our interior design services. You can reach us at 305.640.5005 or by email at contact@brittocharette.com.
Located in Wynwood, Miami?
We invite you to contact us at our office:
Or you can subscribe to our Newsletter and get design inspiration, global trends, cutting-edge luxuries, and fresh ideas.